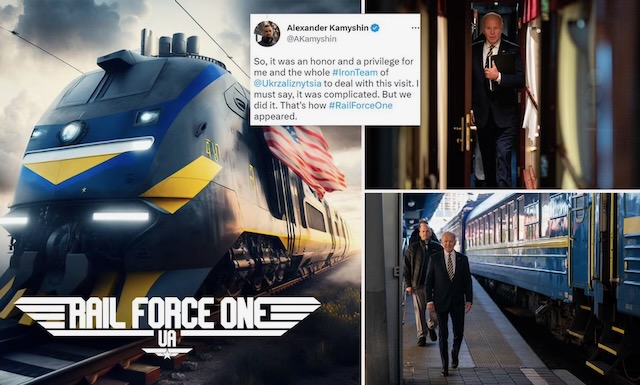 CNN — It was "Rail Force One" – the overnight train that took US President Biden on a diplomatic odyssey from Przemyśl Główny in Poland to Kyiv for his historic visit to Ukraine, just before the first anniversary of Russia's invasion of the country. The 10-hour overnight journey was a top secret, high security challenge for Ukrzaliznytsia, or Ukrainian Railways – the state-owned operator of Ukraine's rail network. But it was hardly their first. With commercial air links into Ukraine canceled, and the skies too dangerous to fly politicians in and out of the country, Ukraine's rail network has become the country's diplomatic highway. Over 200 foreign diplomatic missions have arrived in the country by train so far.
World leaders including Canada's Justin Trudeau, the UK's Rishi Sunak, France's Emmanuel Macron and Italy's Giorgia Meloni have all taken the train to Kyiv. In fact, Japanese Prime Minister Fumio Kishida is the only G7 leader yet to visit the country by train. Ukraine's President Volodymyr Zelensky is a regular user of the railway network on his diplomatic missions abroad.
But there's more to the railways than "Rail Force One," as Biden's train was dubbed. The US president's high profile journey has shone a spotlight on Ukraine's vast rail network which, at nearly 15,000 miles, is the 12th largest in the world. Ukrzaliznytsia is the sixth largest rail passenger transporter in the world, and seventh for freight. First constructed in pre-Soviet times, its network is predominantly a broad gauge railway – different to the standard gauge, which most of Europe uses.
And while Ukraine forces have destroyed the cross-border links to Russia, the rail network still connects with other countries – although the differing gauges mean trains can't generally cross the border. To deal with this, over the past year they have rebuilt sections of previously defunct lines to neighboring countries including Moldova, Poland and Romania. Infrastructure has been repaired at 11 border crossings.
This isn't just about making passenger journeys easier. It's crucial for freight – and for much of the world, which relies on Ukrainian produce, including grain. In 2022, 28.9 million tons of grain were transported via the railways, most of which was exported. In total, just under 60 million tons of goods were exported from Ukraine, according to Ukrzaliznytsia. And in total, the company transported 17.1 million passengers via long-distance trains during 2022. These are predominantly sleeper services.
"Before the war, we had planes, cars, buses and trains," Ukrzaliznytsia's CEO Alexander Kamyshin told CNN Travel. "Now we've got trains and cars, no airplanes. And we're a large country. So to get from Kyiv to west, south or east Ukraine, sleeper trains are the best way to do it. You go to the train in the late evening, travel the whole night, and in the morning you are in the city you need to be. So you don't waste time. It was comfortable before the war, and now it's comfortable and safe. Trains are very important."
Of course, most of the pictures we have seen in the past year of Ukrainian Railways are ones of refugees. Ukrzaliznytsia says it helped four million to safety in 2022, a quarter of whom were children. Some trains were also reconfigured as medical facilities. Around 2,500 civilians were evacuated for medical treatment via rail last year. The network also transported nearly 336,000 tons of humanitarian aid.
It's an immense responsibility for Kamyshin, who started with the company just six months before Russia invaded. "I joined with the problem to develop the company, green-light new projects, renew the fleet and it was all about building and construction, and procuring new stuff. But a year ago we had to change to war time, and war rails," he says.
https://edition.cnn.com/travel/article/ukrainian-railways-biden-diplomacy/index.html
Comment: One year into this war, it is truly remarkable how well the Ukrainian rail system is running. Our trains can only dream of the Ukrainian railway's on time performance. Moscow surely realizes how critical this rail system is to Kyiv's war effort, yet they have not managed to shut it down or even severely degrade it. I think this speaks more to Russia's impotency and incompetency than to Ukrainian resiliency. I take this as just one more sign that Ukraine will prevail.
White House officials were asked why Biden risked a ten hour train ride to Kyiv. They responded that they knew the Russians sucked at dynamic targeting. Their smart missiles aren't accurate enough to hit a moving train. They can't even take out the Dnipro bridges. And the much vaunted Spetsnaz seem equally impotent.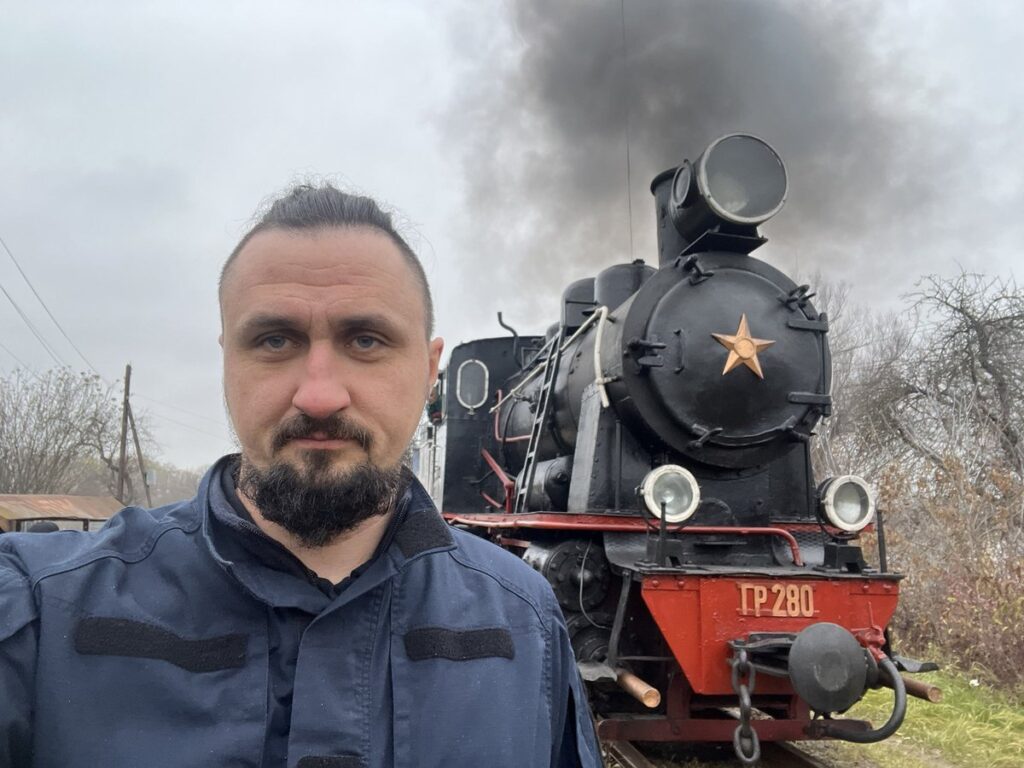 Another point made by the Russophiles a while back was that Ukraine was reduced to using ancient steam locomotives. Those narrow gauge steam locos were part of the annual children's Christmas train run in Lviv, Kyiv and Kharkiv. They still ran last Christmas in Lviv and Kyiv. I don't know if the Kharkiv train ran. Not bad for a rail system at war.
TTG
https://www.railtech.com/infrastructure/2022/11/11/the-plan-b-to-keep-trains-running-in-ukraine-diesel-and-steam-locomotives/?gdpr=accept
https://www.railtech.com/all/2022/09/28/these-are-the-ukrainian-railway-guards-tasked-with-protecting-trains-goods-and-people/