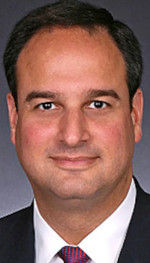 By Robert Willmann
According to U.S. Representative Matt Gaetz (Repub. Florida), he and Representative Jim Jordan (Repub. Ohio) inquired of the Perkins Coie law firm in Washington DC whether the FBI had some type of office at the law firm itself. Gaetz says that attorneys for Perkins Coie sent a letter to him and Jordan admitting that the FBI had a "secure work environment" at the law firm going back to 2012. Apparently it still exists. Furthermore, Gaetz said that the FBI workspace was operated (or overseen) for some period of time by — drum roll — attorney Michael Sussmann, who was found not guilty yesterday (31 May 2022) by a jury of making a false statement to the FBI in a prosecution brought by special counsel John Durham regarding the 2016 presidential campaign.
This obviously raises numerous questions. Did John Durham know about the little satellite FBI office at the Perkins Coie law firm with which Sussmann, while at Perkins Coie, had some sort of association? And so on.
What do you say, Christopher Wray?