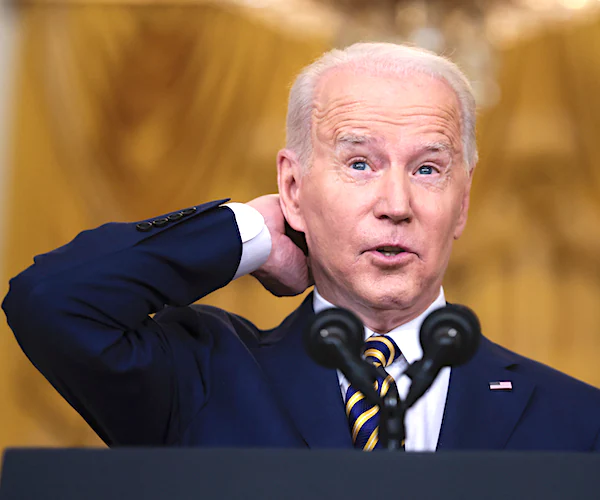 "With the Biden team repeatedly issuing stark warnings Moscow could invade its neighbor as soon as February, Zelensky appears to have grown increasingly frustrated by the alarmist U.S. rhetoric. He even took the extraordinary step Friday of shooting down Biden's reported forecast of an all-but doomed Ukraine.
Juscelino Colares, a law and political science professor at Case Western Reserve University, said Biden wants to sell the idea a Russian invasion is "very likely" to keep the media focus on what Russian President Vladimir Putin is doing and not on the administration's numerous stumbles after only a year in office. Biden's bungling of domestic and foreign policy and his nosediving favorability nationwide had been the focus of news cycles in both conservative and corporate media before the Ukraine situation heated up.
Colares believes Biden also is "proactively setting the expectation low" so he is "not to blame" if Putin chooses to make a move into Ukraine, essentially prepping the narrative that an invasion is a foregone conclusion that no degree of diplomacy can repel.
In drawing attention to what Putin might be preparing to do, Colares said Biden is keeping the conversation away from the fact he has made several "unilateral concessions to Putin" during the past several months. He notes Biden met with Putin after the G-7 summit and permitted the completion in Europe of a controversial pipeline – that was opposed by former President Donald Trump and much of the Republican party – without any sanctions or meaningful tradeoffs."
Comment: What is the old saw about truth being the first casualty of any war? In this case truth is dying well before war begins. Zelensky evidently told Biden to calm down.
Will Putin decide to attack and overrun Ukraine? I doubt it but only he knows.
Joe's problems on the corruption front are so bad that the question arises as to what degree of actual control over him the Chinese have. 31 million US dollars is the figure being tossed around. We have never had a president who was actually a foreign power's asset as an agent of influence. pl
https://www.newsmax.com/platinum/volodymyr-zelensky-foreign-policy-invasion-imminent/2022/01/29/id/1054577/