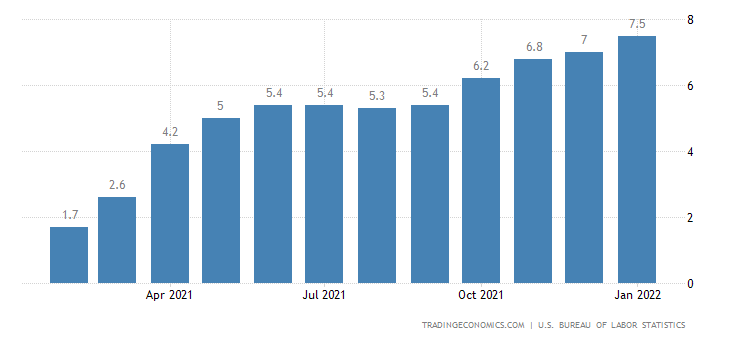 "The annual inflation rate for the United States is 7.5% for the 12 months ended January 2022 — the highest since February 1982 and after rising 7.0% previously, according to U.S. Labor Department data published February 10. The next inflation update is scheduled for release on March 10 at 8:30 a.m. ET. It will offer the rate of inflation over the 12 months ended February 2022."
Comment: The policies of the Biden Administration seem designed to beggar the American people. Severe restrictions have been imposed on the economy through regulation and denial of permitting in the energy business. All this in the pursuit of zero net carbon emissions and safety for Bambi and his mommy. And now we will have the blowback effect of well-deserved sanctions inflicted on Russia for her aggression in Ukraine.
Prices on everything will continue to rise to create a perfect political storm for those who largely created the inflation.
It couldn't happen to a nicer bunch of politically suicidal people. pl
Current US Inflation Rates: 2000-2022 | US Inflation Calculator