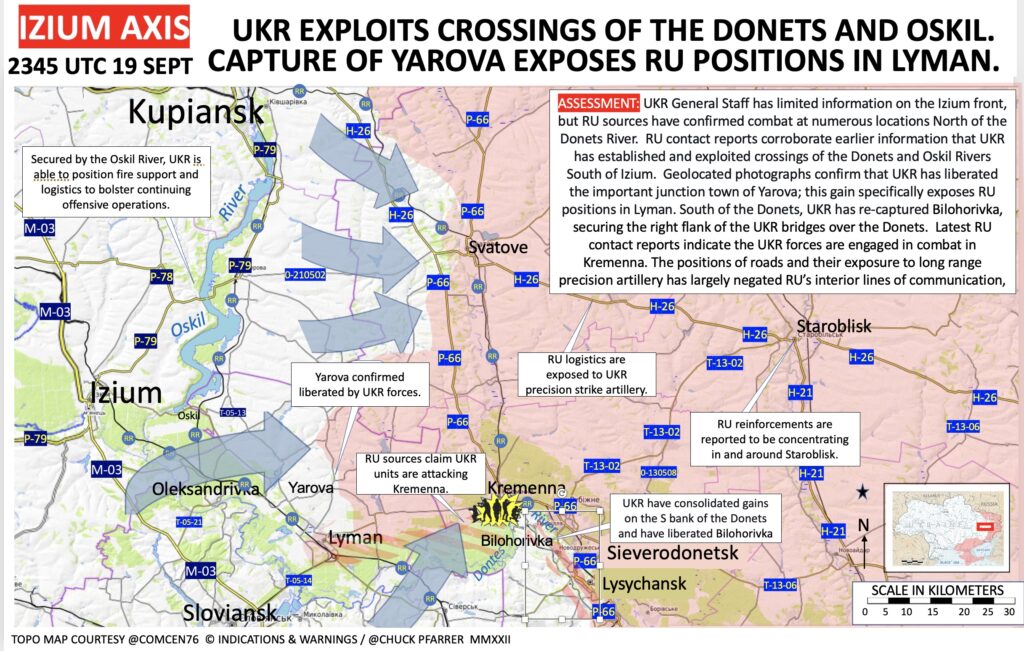 The Russian plan apparently was to hold at the Oskil River and anchor that defensive line at Lyman. Seemed like a reasonable plan… for a while. Ukrainian forces crossed that river at Kupyansk and appear to be heading towards Svatove and the R-66 highway, the last great MSR into Kremenna, Severodonetsk and Lysychansk. I think Chuck Pfarrer is a little too optimistic in those three blue arrows bearing down on Svatove. However, it is likely that Ukrainian reconnaissance elements are ranging that far forward. That's exactly what happened in the initial advance towards Kupyansk. 
The lead elements of the four brigade Kharkiv strike force were two sabotage-reconnaissance battalions of the Kraken Regiment, a volunteer Azov unit that began forming back on 24 February in Kharkiv. The core of this unit are veterans of the original Azov Regiment. It also includes a number of foreign volunteers. They are equipped with artillery, D-30s and D-20s, mortars, drones and mostly wheeled light armored vehicles. There's a video of a 50 cal equipped Humvee manned by an American making the rounds. They also have quite a few pickups, SUVs and vans for transportation. This hodge-podge of a unit was quite effective in pushing the Russians away from Kharkiv earlier in the summer as an assault force and are performing quite well in this offensive as an armored, albeit lightly, cavalry screen.
Further south, the Ukrainians are also keeping up the offensive pressure. Yarova, northwest of Lyman and Bilohorivka, east of Lyman, have fallen. The Russians at Lyman will have to withdraw once again or risk being surrounded. Russian bloggers are saying that the Kremlin has issued orders for no more retreats on this front. Seems the generals don't think their units are capable of retiring in good order. If that's true, and the Russians try to adhere to that order, there will be a lot more Russians in the bag. However, I don't think the Russians on this front have the discipline and morale necessary to stand their ground. Maybe they can form a coherent defensive back at Staroblisk. But they better hurry or the Ukrainians may beat them to it. Of course, that means abandoning Severodonetsk and Lysychansk. It also means the Russian's summer gains and more will be gone, gone except for all the casualties and destroyed/captured equipment. That's going to be tough to spin in both the Kremlin and the blogosphere.
TTG