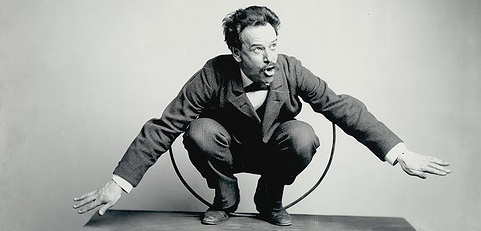 A few days ago, Colonel Lang made a comment that "It is a basic belief of the left that humans are endlessly malleable." I offer a different view.
It's not the left who believe that humans are endlessly malleable. It is primarily all those who believe that mankind and his cultures are evolving in some inexorable and manageable way towards the ultimate civilized and cultured man. Some lefties are clearly amongst this group, but foremost among these are Western civilizations who were/are convinced they are the best mankind has to offer and that all others should be grateful they are given the opportunity to emulate these Western civilizations… even if it is at the point of a sword or gun. Lenin and the Marxist/Communist quest for the "New Soviet Man" or the "New Socialist Man" are certainly among these evangelical true believers. How about the Church of Rome and my beloved Jesuits setting out to set the world on fire?
Within the field of anthropology, this idea was championed by many early Europeans such as Sir Edward Tylor and Sir James Frazer of "The Golden Bough" fame and Lewis Henry Morgan, an early American anthropologist. Taking their cue from a certain reading of Darwin, they believed that all cultures evolve naturally through the same sequence of stages from simple to complex. Political scientists seem to generally buy into this way of thinking as well. I'm thinking of Fukuyama's "The End of History" as a prime example.
On the other hand, the American school of anthropology, fathered almost singlehandedly by Franz Boas called bullshit on that idea. He and his students developed the ideas of cultural relativism and historical particularism. By cultural relativism, we mean one can only grasp an understanding of a group's beliefs and practices within their own cultural context without making judgements. They scoffed at the notion of primitive cultures. Every culture is complete and unique, not some stepping stone on the road to modernity. Boas and his students, Mead, Benedict, Kroeber and others also pioneered the undertaking of long term fieldwork using the participant-observation methodology as opposed to the "armchair" anthropology of the evolutionists.
The Boasian school believed that a culture's history determines particular elements, not just its environment and certainly not any immutable laws of cultural evolution. Each culture has its own unique patterns of culture. A culture develops in specific ways because of their unique histories. Flowing from this point is the idea of cultural plasticity. Cultures change over time. That change is influenced by changes in technology, the environment, changing thought patterns of a society's members and myriad other influencers. But the most influential cause for change is contact with other cultures.
All this means that humans and especially human cultures are malleable. But that malleability cannot be managed or halted. That is unless you want to preserve it in amber or as a living history museum. I remember a Margaret Mead quote where she noted it would be far easier to create a culture out of thin air than to modify an existing culture into a desired state. That is why civilizing the savage, creating the soviet man and other such endeavors are folly. Sure cultures will change, but no one has the slightest idea where those changes will lead.
TTG