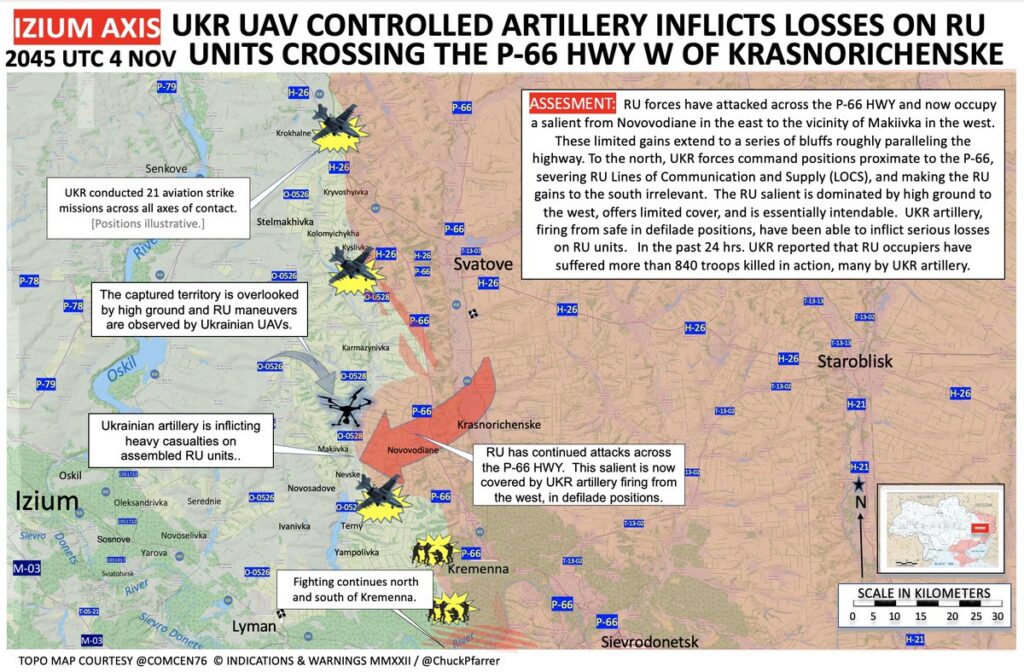 Russian forces prematurely impaled an insufficient concentration of mobilized personnel on offensive pushes near Bakhmut and Vuhledar, Donetsk Oblast, wasting the fresh supply of mobilized personnel on marginal gains towards operationally insignificant settlements. Ukrainian General Staff Deputy Chief Oleksiy Hromov stated on November 3 that one or two Russian motorized rifle companies with artillery and tank support conducted ground attacks within the past week to seize Pavlivka in an effort to reach Vuhledar, but that Russian forces have suffered losses due to Ukrainian defenses. Russian sources also acknowledged on November 3 that the rate of Russian advances near Vuhledar is slow due to Ukrainian resistance and mud. Hromov stated that Russian forces continue ground attacks at the expense of mobilized personnel, private military company forces, and former prisoners, and that the Russians conducted over 40 ground attacks in the Bakhmut, Avdiivka, and western Donetsk Oblast areas in the past 24 hours, sustaining over 300 casualties (100 killed) in just one direction. 
ISW has previously reported on the slow Russian rate of advance in Donetsk Oblast and injudicious allocation of resources on the front lines. Russian forces would likely have had more success in such offensive operations if they had waited until enough mobilized personnel had arrived to amass a force large enough to overcome Ukrainian defenses despite poor weather conditions. Russian attacks continuing current patterns are unlikely to generate enough momentum to regain the battlefield initiative. ISW offers no hypothesis to explain Russian forces' impatience or their continued allocation of limited military assets to gaining operationally insignificant ground in Donetsk Oblast rather than defending against the Ukrainian counteroffensives in Luhansk and Kherson oblasts.
https://www.understandingwar.org/backgrounder/russian-offensive-campaign-assessment-november-3
Comment: ISW isn't the only source at a loss for an explanation of Russia's deliberate and callous disregard for the lives of her soldiers. Daily Kos also has a clear account of this recent carnage in the link below. In the Chuck Pfarrar illustration above, the Russians appear to have advanced into a deliberate kill zone south of Svatove. His figure of 840 KIA is not for this one battle. It's the Ukrainian estimate for total Russian KIA for one day across the entire battlefield. With the deployment of untrained, ill equipped mobiks, this seems to have become a normal occurrence.
Why are the Russians apparently comfortable with this level of losses for such little gain? Is this a cultural trait of Russia or, at least, the Russian military? Is it an attempt to exhaust the Ukrainian supply of precision fires? Are they trying to force the Ukrainians to fire on the hapless mobiks rather than on their precious commissioned fat asses sitting in their field headquarters? Are there officers accompanying those mobiks in their forlorn hope assaults or just barrier troops behind them? I see it as a disgusting display of military callousness and incompetence. Those responsible can rot in Hell.
TTG
https://m.dailykos.com/stories/2022/11/4/2133545/-Ukraine-update-Where-are-all-the-Russians-dying