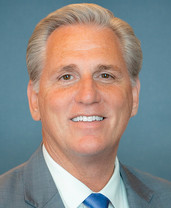 By Robert Willmann
The writer Gore Vidal said that in the United States we do not have politics, we have elections. This observation has become more and more accurate. The Democratic and Republican Parties have maneuvered themselves into being the dominant and controlling political organizations at the federal, state, and local levels. On some important policy questions they are the same, and have been described as the "Uni-Party" and "two wings of the same bird of prey". On 29 December 2022, an omnibus spending bill for fiscal year 2022-2023 was signed as Public Law 117-328. It was not a budget bill, and instead was a grotesque hodge-podge of uncontrolled spending and policy enactments [1].
Despite ongoing voting fraud, members were elected to the House of Representatives that gave the Republican Party a small majority. When the 118th Congress began its session on 3 January 2023, the first thing to be done was to elect a Speaker of the House. As of early today, Thursday, 5 January, that has still not happened, which means that nothing else happens until a Speaker is voted in by all the members.
Article 1, section 2, paragraph 5 of the U.S. Constitution says, "The House of Representatives shall chuse their Speaker and other Officers…." And section 5, paragraph 2: "Each House may determine the Rules of its Proceedings, punish its Members for disorderly Behavior, and, with the Concurrence of two thirds, expel a Member". From those short statements of authority, the House has had six open, unsuccessful roll call votes on members nominated to be the Speaker until the session was adjourned last night at 8:25 p.m.
Kevin McCarthy, a Republican from California, has been in Congress since 2007 and has prepared himself to be Speaker. He lives with Frank Luntz, who does opinion surveys and related consulting work. Luntz can be described as a creature in the Washington DC swamp. However, around 20 Republicans have banded together to oppose McCarthy which prevents him from getting the 218 votes needed to get the Speakership. The House has 435 members.
For the sixth vote, the Democrats nominated Hakeem Jeffries to be Speaker, McCarthy was nominated by a Republican, and one of the group opposing McCarthy nominated Byron Donalds, a Black representative from the 19th District in Florida since 2021.
Some of the contentious issues among Republicans include passing new rules of procedure in the House that will reduce the Speaker's almost absolute authority, the appointment of committee chairmen, and the ability of committees to issue subpoenas when conducting investigations.
Talk behind the curtain in Congress, especially among Republicans, certainly went on last night and is continuing now. The process begins again at high noon eastern time today.
[1] http://www.congress.gov/bill/117th-congress/house-bill/2617/text