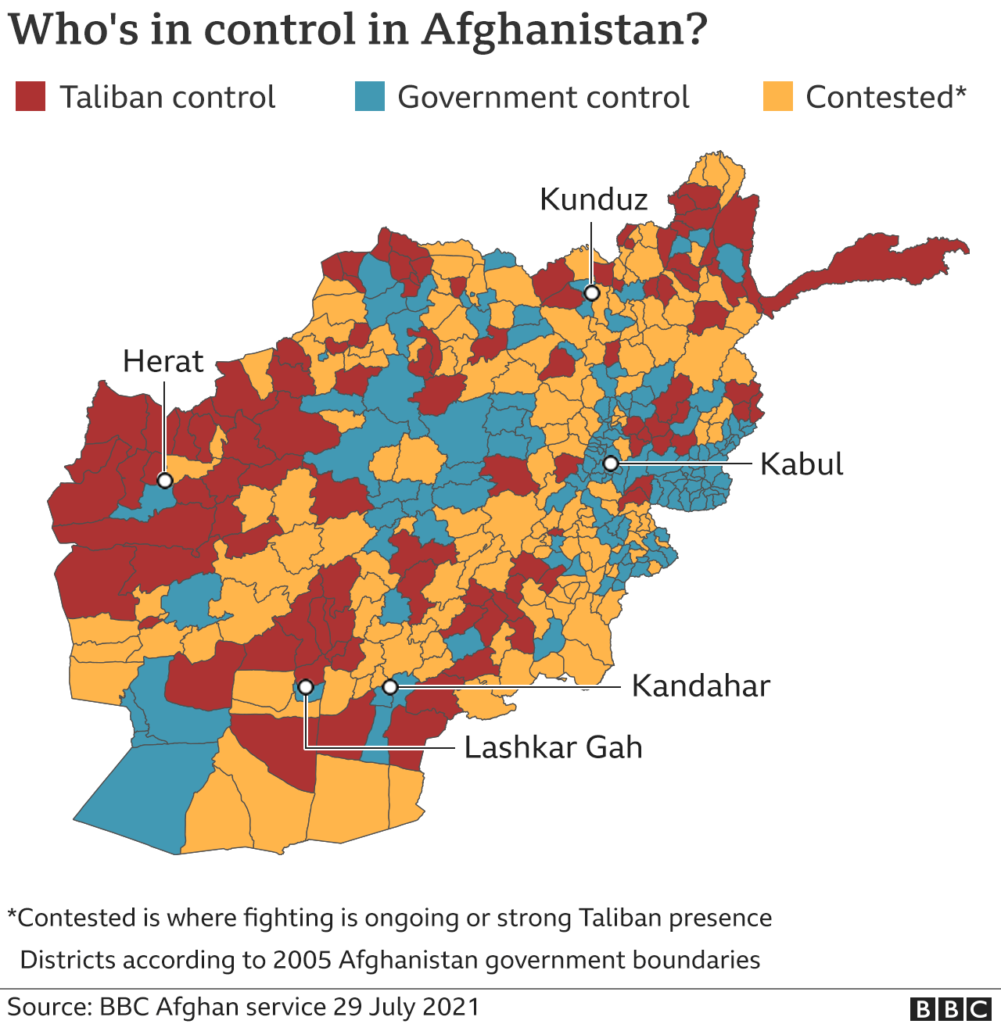 "Fighting is raging around three major cities in southern and western Afghanistan as Taliban militants seek to seize them from government forces.
Taliban fighters have entered parts of Herat, Lashkar Gah and Kandahar.
They have made rapid gains in rural areas since it was announced almost all foreign troops would go by September.
But the fate of these key cities could be crucial amid fears of a humanitarian crisis and how long government forces will be able to hold out.
The fundamentalist Islamist militia is already thought to have captured up to half of all Afghanistan's territory, including lucrative border crossings with Iran and Pakistan.
One MP in Kandahar told the BBC the city was at serious risk of falling, with tens of thousands of people already displaced and a humanitarian disaster looming.
Gul Ahmad Kamin said the situation was getting worse hour by hour, and the fighting within the city was the most severe in 20 years.
He said the Taliban now saw Kandahar as a major focal point, a city they want to make their temporary capital. If it fell, then five or six other provinces in the region would also be lost, Mr Kamin said." The Beeb
Comment: Us deplorables have a variety of folksy, countrified sayings. "This dog won't hunt" is one such. In this case the dog is the Afghan armed forces (AAF). They massively outnumber the Taliban and other recidivist medieval freaks. They have all sorts of weapons in abundance. they still have the immense advantage of US tactical air support flying from places like Qatar. F-15E Strikeagle, AC-130 multi-engine gunships and god knows what else.
And still this dog won't hunt. IMO they all have a sneaking feeling that the Taliban are in the right. As many very secularized Muslims told me over the decades when asked about the salafist inclinations of their children, "they are showing us what we should be." pl