Tibullus Elegy I.8: Marathus returns from Elegy I.4 but is now in love with a young girl named Pholoe.
Translated by Steven J. Willett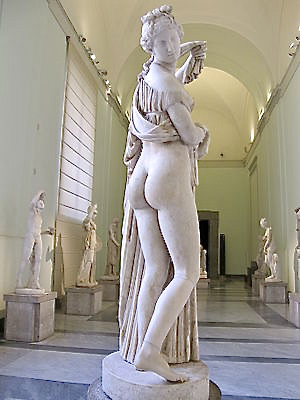 The Venus Callipyge also called the Aphrodite Kallipygos (Ἀφροδίτη Καλλίπυγος) is a Roman copy of a much older Greek original. It dates to the late 1st century BC with a 16th-century restored head and is thought to be a copy of a bronze stature from c.300BC. This is in the National Archeological Museum Naples.
Note: In this elegy Marathus returns in love with a young girl named Pholoe. He has become desperately infatuated with her, but she is tormenting him with demands for presents, refusing to let him see her and breaking her promise to visit him. He is in short an exclusus amator and suffering the usual torments. The poem presents a dramatic situation where Tibullus contrasts the pair and offers his solutions. The structural development of the poem is quite subtle. Tibullus first defines the lover's art and the cause of infatuation. He then gives advice to Pholoe, attacking her venality and cruelty. Next he reviews Marathus' suffering by a dramatic restatement of what the boy feels. It's clear that Marathus ignores good advice. He finally turns back to Pholoe casting threats of punishment at her. Along the whole way Tibullus provides some sensuous descriptions that edge the X-rating of elegy.
I cannot fail to spot what the message in a lover's nod
or what their softly whispered words convey.
No sortilege helps me nor entrails privy to the gods' will
nor birds whose songs foretell events to me:
Venus herself, binding my arms with a magical knot,
taught me exactingly with many lashes.
Stop trying to hide; god scorches those more fiercely
whom he sees yielding to him against their will.
What advantage is it now to cultivate those sinuous curls
and tease new styles from ever-changing hair,
to adorn your cheeks with glossy rouge, to have your nails
trimmed by a specialist's proficient hand?
In vain now your cloaks, in vain their styles you change,
and a tight lace squeezes your constricted feet.
But that girl pleases, though she comes with unadorned face
and wastes no lingering art on lustrous hair.
With charms, with herbs that induce pallor, has some hag
bewitched you in the silent hours of night?
Spells translate the produce from the neighbor's fields,
spells check the movement of an angry snake,
spells attempt to draw the moon down from her chariot
and would, if beaten bronze did not resound.
Why blame charms or herbs for hurting him so wretchedly?
Beauty employs no aids from sorcery:
but it's touching the body that wounds us, but giving long
kisses, but gliding thigh to twine with thigh.
And you remember to be submissive, though he's a boy;
Venus pursues cruel deeds with punishment.
Don't ask for gifts: let some gray old lover give them so he
can warm his frigid limbs in your soft breasts.
More precious than gold is a youth whose smooth, glowing
face lacks a bristling beard to scratch embraces.
Slide your whiter than white arms under his shoulders
and look down on the towering wealth of kings.