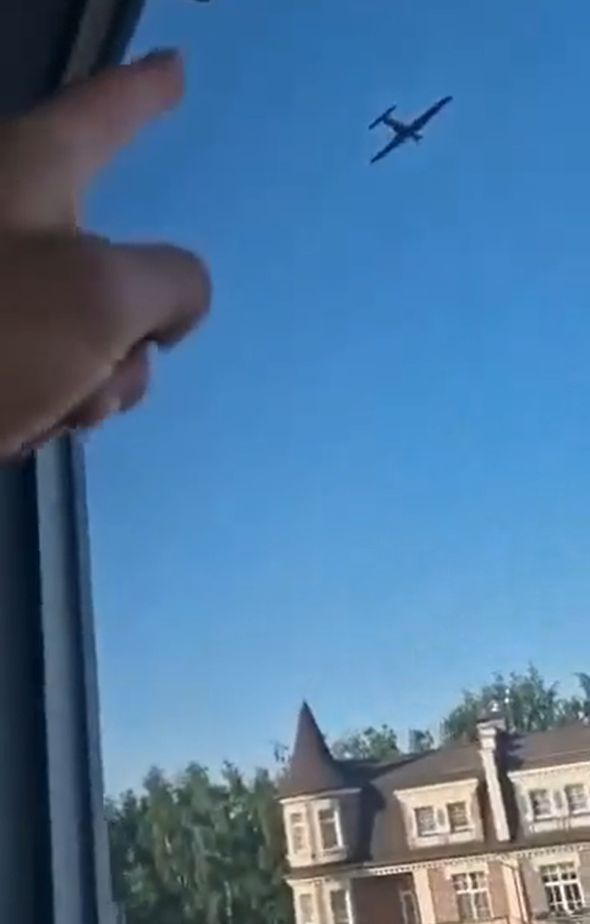 In the last few hours Ukraine has struck the posh Moscow neighborhood where Russian oligarchs live with what looks like a converted Foxtech REX 340 Canard VTOL/compound helicopter drone. You can buy a Chinese Foxtech REX 340 online for $42K from Alibaba. Six hours endurance at 25 m/s cruise speed works out as ~525 km straight-line distance with a 10 minute operational reserve to land. Ukraine likely put between $10K and $35K of materials, time and labor effort per drone just to get one of the 25 munitions to hit in the middle of the densest ADA network and in the most GPS jamming denied airspace on the planet…a second time.
The world has changed. And I say a second time because the success now means the previous drone strike on Moscow wasn't the "False Flag" that I and others thought at the time. Ukraine is better with drones than I thought, and I considered them in the top 5 militaries worldwide. Basically, Ukraine has 'disruptively innovated' a 500 km class propeller cruise missile military capability that can operate out of the back of a SUV for the price of a TOW anti-tank missile.
The video I posted said it takes one man less than 10-minutes to set up one REX 340. A single box truck with three guys could move a swarm of 25 of these drones anywhere the truck can reach, set up and launch a strike capable of penetrating Moscow airspace in about an 90 min.
And this cost Ukraine between $1.3 million and $1.925 million to pull off. We are still in the fog of war, but we are seeing patterns similar to the 1986 Operation EL DORADO CANYON F-111 strike on Libya. Small UAV's flying low over buildings, like F-111s over Tripoli, can cause proximity fuzes detonate SAM warheads over buildings. Ukraine's Chief GUR spook Budanov told Russia yesterday that they would regret the attacks on Kyiv.
The question for me is why only 23 to 25 drones? If Ukraine has 1,000 Rex 340 and fired them as a Moscow time-on-target. They would have gotten several hundred hits after running the VKS SAM launchers out of missiles. A couple of hundred Rex 340 hits into the Russian Defense Ministry is a far stronger message than giving Russian Oligarchs a "Code Brown" with one hit. You can buy & convert 1,000 Rex 340 for $80 million.
We know from David Hambling that Ukraine just bought out the world's supply of Chinese racing drones for FPV attack drone conversion. Trevor Phillips-Levine's War on the Rocks article "THE ART OF SUPPLY CHAIN INTERDICTION: TO WIN WITHOUT FIGHTING" details this Ukrainian bit of racing drone economic warfare. It's an utter hoot. Did Ukraine do the same for Rex 340 class drones? The cost trades here for both the Rex 340 cruise missile conversion and the 50K to 100K Ukrainian FPV drones mark the beginning of a new age of warfare.
A "Dreadnought moment" where disruptively cheap drone swarms are emerging as the predominant military weapon of choice. Ukraine has trained 10K drone operators. This is one per every 100 AFU servicemen. We are likely going to see 50 organic drone operators per Ukrainian ground brigade in their 18 brigade strategic reserve with more in supporting drone companies. Think something on the order of 300 AFU drone operators in the break-in assault sectors sending waves of FPV drones every 10 to 15 minutes all day the first couple of days of the break-in & the pass through of the exploitation force. Behind that Russian train infrastructure, up to 450 km behind the lines, will be struck. Think step down transformers for electrified train lines, diesel storage for diesel engines and train switching equipment with Rex 340 class drones in lieu of Storm Shadow and GMLRS. Storm Shadows would be reserved for hard targets and GMLRS for time critical targets within it's range.
Swarms of 'Alibaba specials' will be for all the immobile and soft logistical targets in the operational rear, like rails and power, that support just in time artillery and fuel needs. There are not enough SAMs, air defense autocannons or electronic warfare jammers in all the world to stop 50,000 to 100,000 FPV drones in the hands of 10,000 Ukrainian combat trained drone operators, let alone in Russia.
The age of the armed drone swarm is upon us.
https://twitter.com/TrentTelenko/status/1663666319798022145
Comment: Until the Russians show more drone wreckage, we won't know for sure what drones struck Moscow the other day. But these Foxtech REX 340 drones seem a good candidate. As Telenko suggests, it would take a massive number of these drones with such small payloads to make a significant impact. This relatively small attack was enough to make a psychological impact in showing that Moscow itself is not invulnerable to attack. I believe this attack occurred in daylight just to make that point.
Further attacks will cause Moscow to further employ its jamming and electronic countermeasure assets. That will effect Russian efforts to launch cruise missiles towards Ukraine. The ECM employed during this strike jammed signals up to the Baltics.
Ukraine's embracing of drone technology and drone warfare kicked off in 2014 with the formation of Aerorozvidka and has grown by leaps and bounds since then. In addition to damned near cornering the market on Chinese produced drones (and I'm still amazed at Chinese willingness to sell these drones to Ukraine), the Ukrainian drone industry is going great guns to develop and produce more effective and affordable drones. I believe we may be surprised by the oversized role drones will play in the upcoming counteroffensive. The question remains as to what counter-countermeasures Ukraine is developing to answer the Russian ECM capabilities.
TTG
https://www.foxtechfpv.com/foxtech-rex-340-canard-vtol-drone.html#yt_tab_products1
https://warontherocks.com/2023/05/the-art-of-supply-chain-interdiction-to-win-without-fighting/