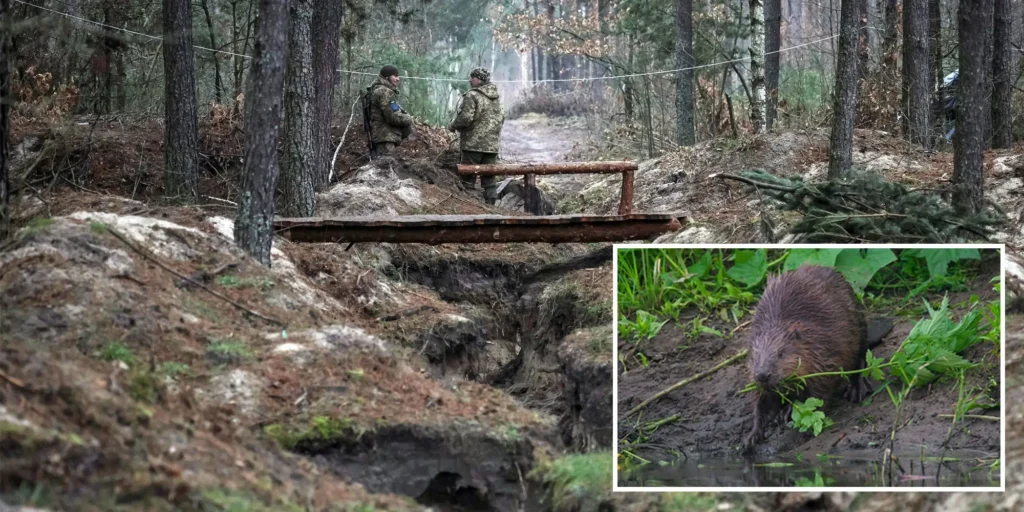 Local beavers are helping Ukraine defend itself from a potential new front in Russia's invasion, Reuters reported on Thursday. The animals are unwittingly helping Kyiv by building dams that keep the ground marshy and impassable, a military spokesman told the agency. This helps Ukraine by making it less likely that an attack could come via Belarus, which borders Ukraine not far north of the capital Kyiv.
Ukrainian officials had warned that Russia may wage an offensive through its ally Belarus into a region of Ukraine called Volyn. Defense forces there, however, have been reassured by conditions on the ground, left impassable by miles of burst river banks, thick mud, and waterlogged fields. The swampy conditions have given Ukrainians an advantage, and time to prepare: a local military unit called the Volyn territorial defense has been conducting daily training exercises in the area, according to Reuters.
Its spokesman, Serhiy Khominskyi, praised the beavers, which he told Reuters were more working unimpeded, unlike in other years. "When [the beavers] build their dams normally people destroy them, but they didn't this year because of the war, so now there is water everywhere," he said. Viktor Rokun, one of the brigade's deputy commanders, told Reuters: "On your own land, everything will help you to defend it — the landscape, lots of rivers, which have burst their banks this year." 
The unusually mild winter has created ideal conditions for Ukrainians to defend their country. Analyst Konrad Muzyka, who runs the defense consultancy Rochan Consulting, told Reuters that Volyn would be a "horrible place to conduct an offensive operation. There are many watercourses there, very few roads," he said. "This makes it easy for Ukrainian forces to channel the movement of Russian forces into specific areas where they would be shelled by artillery."
https://www.businessinsider.com/ukraine-says-defenses-stronger-thanks-beavers-dams-2023-1
Comment: Sure this is more a human interest or moment of nature story than a war update, but it caught my eye because I just discovered the beavers are back in the small stream behind my house. We had an established family of beavers when I moved here in the mid-90s. They were a source of enjoyment and never bothered anybody. The first winter here, I watched them glide under the ice from their lodge to the far side of their small pond. They are graceful creatures in the water. I would often sit by a tree and quietly wait for them to appear at dusk and start to work. The quiet sitting and watching in the company of wild creatures is great medicine for body and soul.
Several years later the juveniles started building dams further down the stream, but still lived with the one remaining parent in the old lodge. One family in the neighborhood complained that the dams were flooding their basement. It was bullshit. The water was never anywhere near the level of their basement. The problem was a faultily installed basement window that leaked in the rain. I learned that our proto-HOA at the time had the beavers removed. I threatened to burn the whole goddamned development to the ground. I didn't, of course, but I left them with a final epithet, "And the Karela, the bitter karela, shall cover you all!"
The last I saw those beavers was one night when one juvenile was tenderly caring for the remaining parent streamside while the other juvenile was tending to the dam. Animal instinct? Sure, but I saw God's divine mercy and sacred love that night.
So finally the beavers are back. Their dam and pond seem situated well enough to avoid arousing the fear of other surrounding home owners. Let's hope it stays that way.
TTG