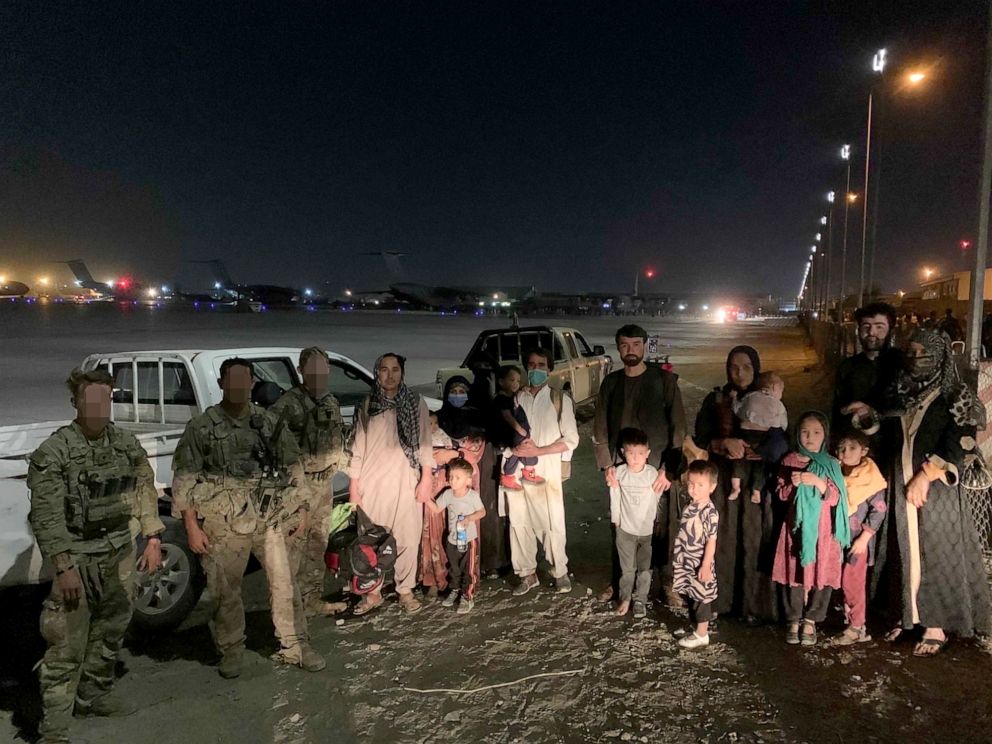 By James Gordon Meek, ABC News, 27 August 2021
With the Taliban growing more violent and adding checkpoints near Kabul's airport, an all-volunteer group of American veterans of the Afghan War launched a final daring mission on Wednesday night dubbed the "Pineapple Express" to shepherd hundreds of at-risk Afghan elite forces and their families to safety, members of the group told ABC News.
Moving after nightfall in near-pitch black darkness and extremely dangerous conditions, the group said it worked unofficially in tandem with the United States military and U.S. embassy to move people, sometimes one person at a time, or in pairs, but rarely more than a small bunch, inside the wire of the U.S. military-controlled side of Hamid Karzai International Airport.
The Pineapple Express' mission was underway Thursday when the attack occurred in Kabul. Two suicide bombers believed to have been ISIS fighters killed at least 13 U.S. service members – 10 U.S. Marines, a Navy corpsman, an Army soldier and another service member – and wounded 15 other service members, according to U.S. officials. There were wounded among the Pineapple Express travelers from the blast, and members of the group said they were assessing whether unaccounted-for Afghans they were helping had been killed. As of Thursday morning, the group said it had brought as many as 500 Afghan special operators, assets and enablers and their families into the airport in Kabul overnight, handing them each over to the protective custody of the U.S. military.
That number added to more than 130 others over the past 10 days who had been smuggled into the airport encircled by Taliban fighters since the capital fell to the extremists on Aug. 16 by Task Force Pineapple, an ad hoc groups of current and former U.S. special operators, aid workers, intelligence officers and others with experience in Afghanistan who banded together to save as many Afghan allies as they could.
https://abcnews.go.com/Politics/us-special-operations-vets-carry-daring-mission-save/story?id=79670236
Comment: Earlier this week I mentioned the James La Porta story of last Saturday about Chinooks ferrying 96 Afghans into the airport for evacuation along with SOF teams, DIA and CIA officers operating outside the wire performing the same mission. I mentioned my unbridled joy upon reading this story. This new story brought up a range of emotions. Unbridled joy, pride and awe of course, but there was something else. I thought of Shakespeare's lines from Henry V in the morning hours before the Battle of Agincourt.
"And gentlemen in England now a-bed
Shall think themselves accurs'd they were not here,
And hold their manhoods cheap whiles any speaks
That fought with us upon Saint Crispin's day."
I'm old, certainly not as tough and skilled as I once was and my knowledge is dated, but son of a bitch, I'm not dead yet. That's why I feel at least a little "accurs'd."
When I commented on that James La Porta story, I mentioned that we'd be doing this kind of thing with or without official approval. I spoke from experience and first hand knowledge. I guess I knew what I was talking about this time. Note in the full story that the vets had assistance from US troops inside the wire, troops who were faced with the choice between embracing their sacred honor and risking a court martial. They stood in the breach and chose their sacred honor.
So, along with voicing our outrage over the many past and present blunders in Afghanistan, remember the audacity and courage of Task Force Pineapple and the SOF, DIA and CIA teams who are undoubtedly still operating outside the wire. And remember the courage of the 6,000 US troops at the Kabul Airport who continue to evacuate tens of thousands of Afghans and Americans in spite of yesterday's deadly attacks.
TTG, DOL