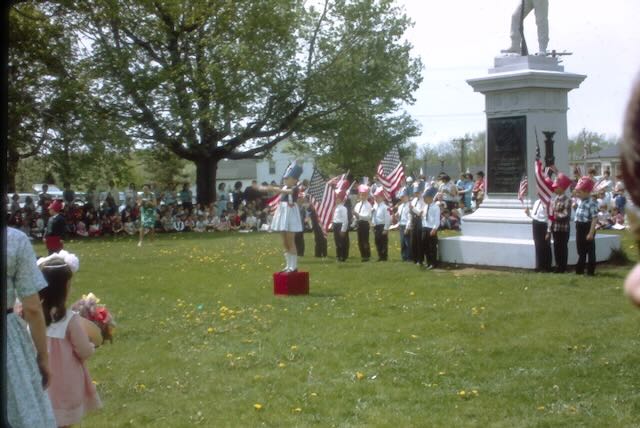 Yesterday my sister sent me a thumb drive with a lot of old family photos. Among them were several from what I believe was a Flag Day celebration on our town green when I was in grammar school. This would have been in or around 1958 or so. I still remember making those shakos out of construction paper and white paste. We enjoyed making those shakos. We also enjoyed practicing our songs and marching in the school yard before the big day. As you can see, a lot of the parents and towns folk were there to enjoy the celebration along with us.

Here we march up Center Street towards the green past the Petrauskas farm. That house was heated with wood in the winter. I ate many a bowl of cabbage soup in that house. I also pitched a lot of hay and milked a lot of cows there. We assembled in front of the Congregational Church, facing the soldiers monument. I grew up in the former glebe house on the opposite side of the green.

Here we proudly march around the soldiers monument singing the patriotic songs we practiced so hard to learn. The photo on the left shows the Prospect Historical Society, the former one room school house, and the Town Grange. On the right, my father caught me mugging for the camera. It's the only time I recall wearing a bow string tie. I notice I was holding my flag at a proper right shoulder arms with my thumb and forefinger forming a perfect O. My father taught me that. He taught us all the manual of arms and close order drill.
I remember those old days fondly and with great pride. We were all so full of patriotism and a such a strong sense of community. Damn I miss those days.
TTG