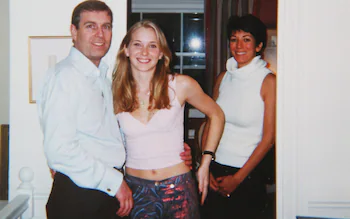 "The court also heard how Prince Andrew had been among those who flew on Epstein's private jet, nicknamed the "Lolita Express".
In seeking to get their own case thrown out, the Duke's lawyers have sought to paint Ms Giuffre as a money grabber who is simply after "another payday at his expense".
Some experts believe the decision not to call Ms Giuffre as a witness at Maxwell's trial could work in his favour, if it was made, as suspected, because her various inconsistencies were unlikely to withstand the rigorous scrutiny of the criminal court.
The attempts to "smear" her credibility and motives have been criticised but may now hold even less sway in the court of public opinion.
Prince Andrew has insisted he has no recollection of meeting Ms Giuffre but makes no such claim when it comes to Maxwell.
It was Maxwell, an old friend, who introduced him to Epstein in 1999. It was Maxwell who invited the Duke to her London home to meet Ms Giuffre and Epstein when all three posed together for that now infamous photograph on her landing.
It was Maxwell who is alleged to have told Ms Giuffre the following day that she had done a "really good job" and made Prince Andrew "really happy" after having sex with him.
And it was Maxwell who was so often there at the Duke's side, from Ascot to palace balls, shooting weekends to holidays at the Queen's Balmoral estate and even Princess Beatrice's 18th birthday party. Telegraph
Comment: Rumor has it that Ghislaine Maxwell was a "cooperating source" for British intelligence, specifically MI-6. It would have been easy work for the network of Oxbridge "boys" to recruit someone like her for the purpose of amassing data with which to pressure Epstein's "friends" for yet further cooperation. Her relationship to "Smiley's People" was probably why she thought herself invulnerable and was surprised when the FBI showed up at her door in New Hampshire.
She is going to get a de facto life sentence. Her only hope is to "sing" for the US Attorney who prosecuted her. Joe Biden in his phony role as an avatar of one of the "Molly McGuires" does not like the British, "death ships" etc. and would not IMO be likely to obstruct further pursuit of the "johns," including Prince Andrew.
Could Maxwell also have been a source for Mossad? Quite possibly.
Would the prosecutors want to fully expose Bill Clinton's role in all this? I dunno. pl
https://www.telegraph.co.uk/world-news/2021/12/29/ghislaine-maxwells-conviction-jeffrey-epstein-sex-trafficking/