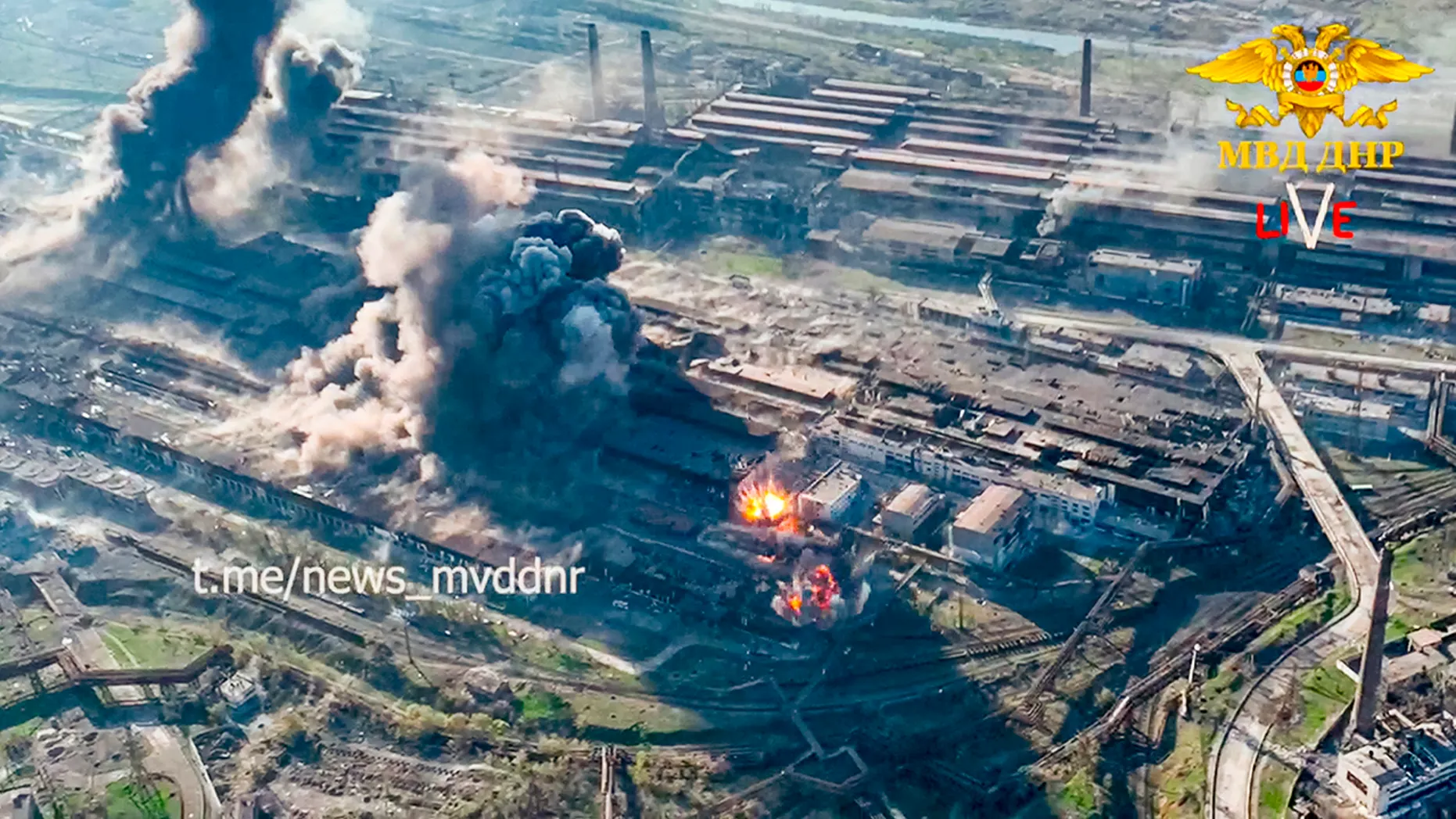 "Ukraine's defense ministry posted a list of more than 200 high-ranking Russian military officials who have been sent to Mariupol to monitor the security situation. 
Officials have said that Putin will use the parade as an attempt to prove his military success in eastern Ukraine even though brutal fighting continues in the region. 
Putin last month claimed victory over Mariupol despite Russia's inability to completely take the city. 
Fighting continues from the Ukrainian resistance's final stronghold in Mariupol under the Azovstal steel plant where an estimated 200 civilians and soldiers remain trapped.
Ukrainian soldiers have refused to surrender and concerns have increasingly mounted that Russian forces will completely wipe out the remaining survivors by the May 9 parade.
Ukrainian President Volodymyr Zelenskyy said in a late-night address that he was continuing to push the Russians to honor a ceasefire and allow the evacuation of the remaining Ukrainians holed up.
"We are also working on diplomatic options to save our military who still remain at Azovstal," he said. "Influential mediators are involved. Influential states."
Ukrainian Deputy Prime Minister Iryna Vereshchuk said Friday that 50 women, children and elderly civilians were evacuated from the tunnels.
But dozens more were unable to be rescued due to Russia's continued assault on the plant – despite repeated claims from Moscow that it would permit humanitarian evacuation efforts. "
Russia moves forces to Mariupol ahead of 'Victory Day' parade, officials work to rescue trapped troops | Fox News
"Ukrainian troops, emboldened by sophisticated weapons and long-range artillery supplied by the West, went on the offensive Friday against Russian forces in the northeast, seeking to drive them back from two key cities as the war plunged more deeply into a grinding, town-for-town battle.
After weeks of intense fighting along a 300-mile-long front, neither side has been able to achieve a major breakthrough, with one army taking a few villages one day, only to lose just as many in the following days. In its latest effort to reclaim territory, the Ukrainian military said that "fierce battles" were being waged as it fought to retake Russia-controlled areas around Kharkiv in the northeast and Izium in the east.
The stepped-up combat came as the White House announced on Friday that President Biden would meet virtually on Sunday with President Volodymyr Zelensky of Ukraine and the leaders of the G7, which includes Britain, Canada, France, Germany, Italy, Japan and the United States."
Using Weapons From the West, Ukraine Seeks to Drive Back Russian Troops – The New York Times (nytimes.com)
Comment: Anything is possible as VP tries to generate a bandwagon effect. I would not rule out the possibility of a small tacnuke strike on the Azovsteel plant as an "example." pl