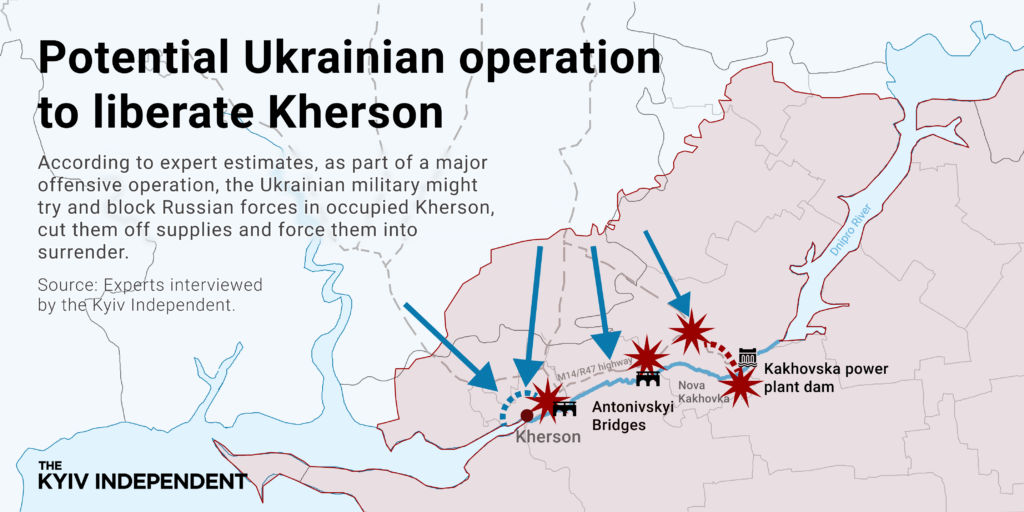 One way or another, according to Ukraine's leadership, it's bound to happen. Even though the Battle of Donbas is far from over, Ukraine is expected to open the next chapter of the war sometime in the near future — a highly anticipated, major counter-offensive operation in the south, particularly to liberate the Russian-occupied city of Kherson. Kyiv has declared its intentions to liberate the only regional capital captured by Russia following the Feb. 24 full-scale invasion. 
Experts across the world agree that retaking Kherson is the most feasible way for Ukraine to score a major victory over Russia and turn the tide of the war. As part of a counter-offensive operation, Ukraine would likely seek to block the occupied city, cut the Russian garrison off from supplies and reinforcements, and hold the blockade until Russia surrenders. This would be a daring mission, demanding the most effective contribution of all components ranging from infantry to air defense and counter-battery activity. 
Thanks to local terrain and Russian military flaws, Ukraine's plan may in fact be realistic.  But in order to carry it out, Ukraine's military would have to demonstrate excellent coordination of war power and do the difficult work of clearing the area of Russian forces, supply lines, and ammunition depots — before going in.
…
There are three key objectives Ukraine has to meet in order to encircle Russian troops and force them to surrender in Kherson. Ukraine would have to impose firm control over the M14/P47 highway that runs east of Kherson and connects the city with Nova Kakhovka, one of Russia's key bases in Ukraine's southern Kherson Oblast and the site of recent attacks on Russian ammunition depots carried out with the help of newly delivered Western weapons. 
It would also need to destroy two bridges across the Dnipro River, the Antonivsky Bridges, one for vehicle traffic and the other for railway, close to the town of Antonivka on the outskirts of Kherson. The two bridges currently allow Russia to reinforce its garrison in Kherson from occupied territory across the river. 
Ukraine would also have to cut off the Kakhovska Hydroelectric Power Plant in Nova Kakhovka some 55 kilometers east of Kherson. The dam also serves as a bridge, along which the M14/P47 highway runs.  
If the highway is cut off by Ukraine, Russian forces would have no way of getting across the Dnipro. With the two Antonivksy bridges destroyed, the only other way to make it across the Dnipro's right bank is in Ukrainian-controlled Zaporizhzhia over 200 kilometers away from Kherson. 
This first phase would only be considered successful once Russian forces are blocked and cut off from supplies and reinforcements. If successful, Russian forces in Kherson would be backed up against a giant natural obstacle. The Dnipro River is nearly 350 meters wide near the city. Ukrainian artillery would also be close enough to prevent Russian forces from installing any sort of river cross, such as floating bridges. 
https://kyivindependent.com/national/what-would-a-ukrainian-counter-offensive-in-kherson-look-like
Comment: The full article by Illia Ponomarenko, a long time defense reporter in Kyiv, has a lot more to say about this possible counter-offensive. His view is far more realistic than some I've seen claiming a quick retaking of Crimea. I doubt that will happen for quite some time. It would be dependent on a full collapse of Russian defenses. Possible, yes. Imminent, no. Even so, Russia is moving a lot of their Black Sea Fleet out of Sevastopol to their port at Novorossiysk.
Taking Kherson and especially the north bank of the Dnipro opposite the Nova Kakhovka Dam would be enough to put Russia right back to where they were before the invasion with a dry Crimea. Crimea needs the water to continue flowing through the Dnipro canal. Loss of access to that water would be a far greater loss to Russia than the full loss of the Donbas. That's the importance of the inevitable Kherson counter-offensive.
In my opinion, Russia is far too focused on the Donbas to the detriment of securing the Dnipro Canal. That may be why Kyiv is putting up such a fight on that front, to keep Russia's focus and forces away from Nova Kakhovka and Kherson. The Ukrainian HIMARS are doing a good job of keeping ammunition away from Russian forces on the Kherson front over the last few weeks with nightly fireworks displays at Russian ASPs. They also took out a Podlet K1 radar system located on the coast at Lazurne. The system is designed for detecting and tracking low-altitude targets, providing early warning and support for systems like the S-400. It was undoubtedly meant to protect Sevastopol from Ukrainian missile attacks, but its loss also leaves a big hole in the air defenses of the entire Kherson front. One of the Dnipro bridges at Kherson has also been struck twice and put out of action for truck traffic. 
Read the room, Vladimir Vladimirovich. Read the room. You're about to have a lot of thirsty people in Crimea… again.
TTG