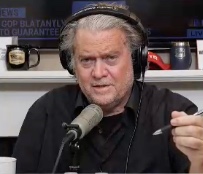 By Robert Willmann
Something has made me uneasy about U.S. District Judge Carl Nichols, who is presiding over the misdemeanor criminal case against Steve Bannon for failing to appear after receiving a subpoena issued by the Congressional committee that is supposed to be investigating what happened on 6 January 2020 at the Capitol [1]. In my opinion, the language Nichols has used in memorandum orders he has issued in Bannon's case and in lawsuits in his court in which voting machine companies have sued persons for defamation may reveal a mindset and temperament that is not as judicious as people might expect.
The sentencing hearing in Bannon's case is underway, having started at 9:00 a.m. eastern time today, 21 October. Even though the offense is a misdemeanor, arguments have been made that probation as a sentence is not allowed for that particular charge. I think the text of the law that applies permits probation [2].
The case against Bannon is a political prosecution. The way the so-called J6 Committee was created, its membership, the lack of a minority counsel, the issues in the event it has ignored, its failure to disclose all videotapes from 5 and 6 January in and around the Capitol, and so forth, point to it as being dangerous itself, instead of an objective attempt at analyzing what happened.
Although the appropriate sentence at this point in the case is probation and not jail time, we will see what happens this morning.
[1] http://www.dcd.uscourts.gov/content/district-judge-carl-j-nichols
[2] Title 18, U.S. Code, sections 3561-3566. Probation.
http://uscode.house.gov/view.xhtml?path=/prelim@title18/part2/chapter227/subchapterB&edition=prelim
Title 2, U.S. Code, section 192. Refusal of witness to appear or produce papers.
http://uscode.house.gov/view.xhtml?req=granuleid:USC-prelim-title2-section192&num=0&edition=prelim