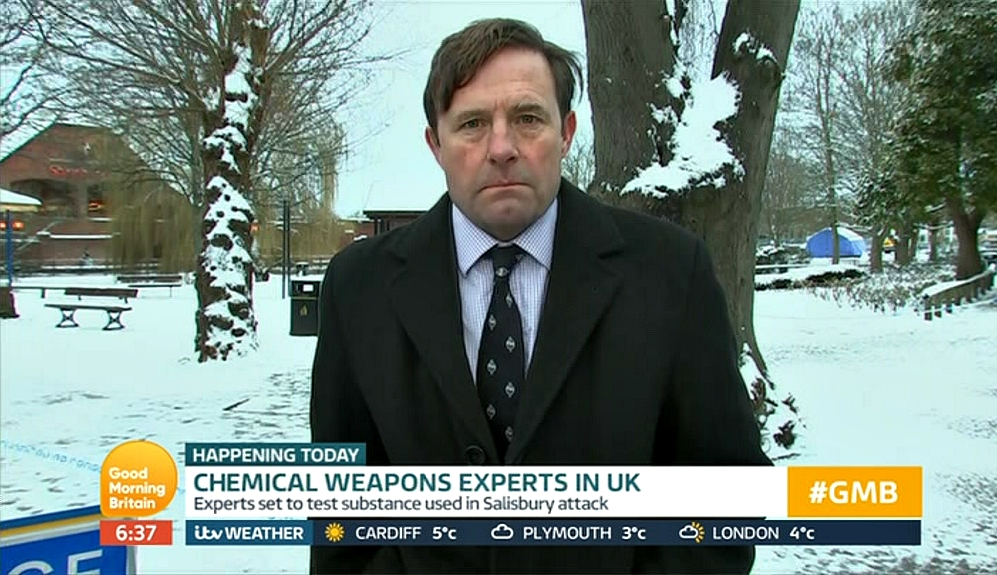 "Shadowy UK intel figure Hamish de Bretton-Gordon was at the forefront of chemical weapons deceptions in Syria. Now in Ukraine, he's up to his old tricks again.
With Washington and its NATO allies forced to watch from the sidelines as Russia's military advances across Eastern Ukraine and encircles Kiev, US and British officials have resorted to a troubling tactic that could trigger a massive escalation. Following similar claims by his Secretary of State and ambassador the United Nations, US President Joseph Biden has declared that Russia will pay a "severe price" if it uses chemical weapons in Ukraine.
The warnings emanating from the Biden administration contain chilling echoes of those issued by the administration of President Barack Obama throughout the US-led dirty war on Syria.
Almost as soon as Obama implemented his ill-fated "red line" policy vowing an American military response if the Syrian army attacked the Western-backed opposition with chemical weapons, Al Qaeda-aligned opposition factions came forth with claims of mass casualty sarin and chlorine bombings of civilians. The result was a series of US-UK missile strikes on Damascus and a prolonged crisis that nearly triggered the kind of disastrous regime change war that had destabilized Iraq and Libya.
In each major chemical weapons event, signs of staging and deception by the armed Syrian opposition were present. As a former US ambassador in the Middle East told journalist Charles Glass, "The 'red line' was an open invitation to a false-­flag operation."
Elements of deception were especially clear in the April 7, 2018 incident in the city of Douma, when an anti-government militia on the brink of defeat claimed civilians had been massacred in a chlorine attack by the Syrian army.
Veteran inspectors from the Organization for the Prohibition of Chemical Weapons (OPCW) found no evidence that the Syrian army had carried out any such attack, however, suggesting the entire incident had been staged to trigger Western intervention. Their report was subsequently censored by organization management, and the inspectors were subjected to a campaign of smears and intimidation."
Comment: This John Le Carre style character has had a lively time the last ten years. The UK government has built a lot of plausible denial into his cover, but that does not deceive. I wonder if he is actually still a member of the British Army, perhaps in the Reserve. Perhaps he is a member of 77 Brigade, the British psyops and covert action unit? He is good at using American government money (USAID) to fund things like the White Helmets film company which clearly staged ALL the supposed SAA chemical attacks in Syria. People muse over Obama's decision not to react when Syria supposedly crossed his chemical weapons "red line." My theory of the matter is that someone finally told him that it was all British BS.
A related question lies in the motivation of HMG. I have suggested in the past that the habit of manipulation is age old in Britain and they just can't help themselves. Remember the Belgian babies impaled on German bayonets in WW1? It was a total hoax, but effective. pl
British intelligence operative's involvement in Ukraine crisis signals false flag attacks ahead – The Grayzone
77th Brigade (United Kingdom) – Wikipedia