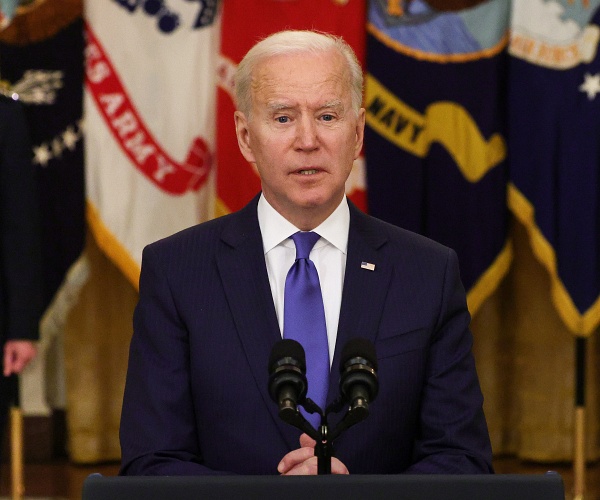 "Half of America doubts President Joe Biden is "physically or mentally" fit for the job, according to the latest poll by Rasmussen Reports.
It is an alarming finding after reports of President Biden failing to remember the name of Defense Secretary Lloyd Austin, calling him "the guy that runs that outfit over there," the New York Post reported Monday."
https://www.newsmax.com/newsfront/rasmussen-reports-unfit-president-biden/2021/03/09/id/1013136/
"There are two signals of that one," said Morris, pointing out that four Senate Republicans have already sponsored a bill to strip Biden of his "war-making authority," and before that, 30 Democrats wrote a letter to Biden asking him to relinquish sole authority over the nation's nuclear codes.
"I think that this is all indicative of a lack of confidence in him, a lack of feeling he's well enough to make these decisions, and I think the 25th Amendment is not going to be long in coming."
Dick Morris to Newsmax TV: Dems Will Likely Invoke 25th Amendment On Biden | Newsmax.com
Comment: Elder abuse. That is what I called it months ago and that is what it is. This man is disintegrating before our eyes, and in his more lucid moments he probably knows that. I have previously expressed the thought that it is very dangerous for him to have the nuclear football and the Gold Codes in his grasp.
It is clear that the VP is slowly taking over from him and the Democrat/Leftist coalition is quite willing to let him rot before our eyes in the interest of consolidating power in a one party country. They will have an ocean of appropriated money at their disposal. That can be re-programmed from one purpose to another, and they are changing the country's constitutionally mandated state control of federal elections so that they can ensure their permanent power.
He couldn't remember SECDEF's name? He couldn't remember what the Defense Department was called? That seems to be true. I have watched this thing on the TeeVee several times and the truth of it seems undeniable.
But, Pilgrim Turcopoles, he can order a nuclear attack by that department whenever he decides to do so. pl