A Grave of Grasses: An Original Poem based on Matsuo Bashō (松尾 芭蕉) The Narrow Road to the Deep North.
Steven J. Willett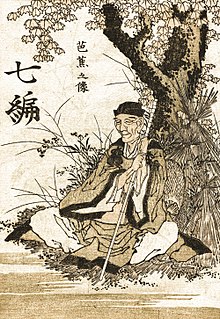 A block print of Bashō from the 18th century by Hokusai.
Note: On May 16, 1689, Bashō left Edo with his student Kawai Sora on a long walk into the northern provinces of Honshū. These provinces were relatively unknown then and primitive. On June 29 they reached Hiraizumi, turned to the west side of the island and walked back to Edo at a leisurely pace in 1691. They covered a total of 2,400km in 150 days, staying at night wherever they could find someone to bed and feed them. Bashō described this journey in The Narrow Road to the Deep North (奥の細道, Oku no Hosomichi). The first edition was published posthumously in 1702 and was an immediate commercial success. This is a short book of simple, descriptive prose that evokes all of his feelings during the trip and gives us some of his most profound haiku (hokku or haikai then and later haiku). Those who read it will never forget it.
Here is the opening quote of his arrival at Hiraizumi where the Fujiwara Clan used to have a huge estate: "It is here the glory of the three generations of the Fujiwara family passed away like a snatch of empty dream. The ruins of the main gate greeted my eyes a mile before I came upon Lord Hidehira's mansion, which had been utterly reduced to rice-paddies. Mount Kinkei alone retained its original shape. … When a country is defeated, there remain only mountains and rivers, and on a ruined castle in spring only grasses survive" (The Narrow Road to the Deep North, translated by Nobuyuki Yuasa, Penguin Books 1960). The Fujiwara Clan collapsed after more than a hundred years of endless war. In time, perhaps or perhaps not a long time, America will also suffer a complete defeat leaving very little behind it but mountains and rivers.
The hokku that precedes the poem is perhaps the most influential in Japan and the world, more even than his frog leaping into an old pond. Songs, movies, dramas, comics, picture novels and much more have been written with the final phrase Yumenoato. This phrase is really untranslatable in its innocent-seeming power. And let me confess that I've never yet read a good haiku in modern European languages, English above all. Japanese syntax is so concentrated and uses an ancient vocabulary without comparison. But I'm always ready for proof.
夏草や 兵どもが 夢の跡
Natsukusa ya/ Tsuwamonodomo ga/ Yume no ato
Summer grass/ancient warriors/dream's afterward
The grave has many languages, but grasses
bent in the summer breeze recount the air
so softly that we barely hear the words
disease, betrayal, hatred, love and war.
The winds arise on empty mountain peaks
and cross a solitude of rolling plains.
Basho once stood alone, among the ruins,
and heard the dreams of long-dead warriors fill
the air with bodies lost to summer grasses.
Rivers and mountains only know the empty wind.
The grave has many languages, but winter
moonlight fills ashen grass with shadow bones.