Sappho 1 D. H. Comp. 23 (vi 114ss. Usener-Radermacher) (+P. Oxy.)
Translated by Steven J. Willett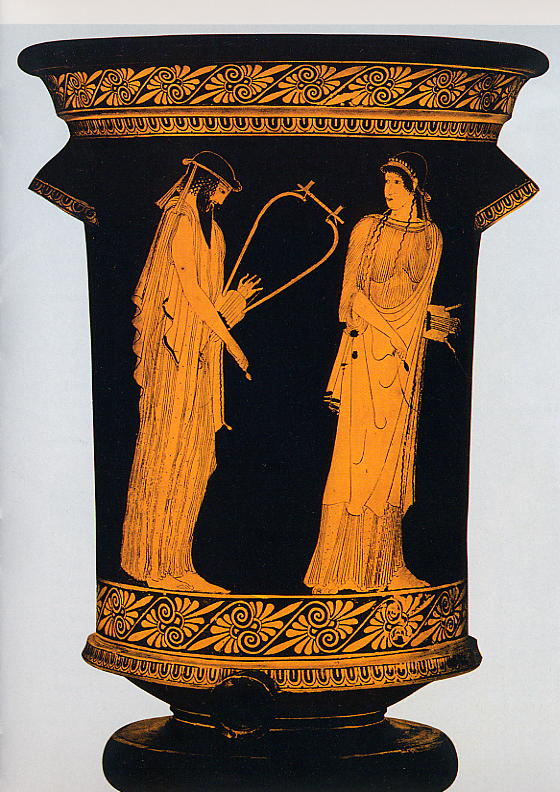 This is a red-figure kalathos vase of Sappho holding a lyre and plectrum as she listens to Alcaeus sing c. 470BC. We have no sculptures or depictions of Sappho with any reliability. She lived c.630~c.570BC in Mytilene, Lesbos.
Note: Dionysus of Halicarnassus writes the following about Sappho in his On Literary Composition: "I will give examples of this style– polished and exuberant composition–among poets selecting Sappho, among orators Isocrates. I shall begin with the lyric poet."
High-wrought enthroned, everlasting, Aphrodite,
child of Zeus, wile weaverer, I entreat you:
don't with ache and anguish attempt to break my
heart, O my goddess,
come here now if ever you tended to act
when perceiving cries of my voice far off you
heard me, leaving then from your father's golden
home you descended
yoked to chariot; the alluring fine swift
sparrows brought you over the gloomy earth their
countless wings awhirl from the heavens down to
middle air regions,
quickly they arrived; and then you, my blessed,
smiling on me out of your deathless visage
asked what troubled me now this time and why
I had again called,
what I most desired to befall me with my
maddening heartache: "Whom to persuade this time
must I lead you back to her love? For who, O
Sappho, has hurt you?
If she flees away, she will soon pursue you;
if she has no welcome for gifts, she'll give them;
if she does not love, soon she'll fall in love
even unwilling."
Come to me anew and deliver bitter
inescapling cares from me now, but render
all my heart desires me to render, and you
stand as my comrade.