Aristophanes Fragment from Gerytades Athenaeus 12.551A (Loeb Aristophanes Fragments 156)
Translated by Steven J. Willett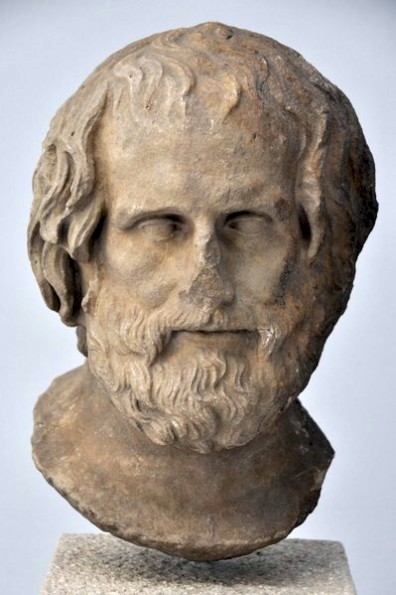 Note 1: The setting of the play is Athens where an assembly of poets select Meletus to represent tragedy, Sannyrion comedy and Cinesias dithyramb for a trip to Hades where they will meet their deceased predecessors. The reason for the journey is unclear, but the chosen are slim (according to Athenaeus) and riding on slim hopes. They may serve as envoys to praise the dead and hold a celebratory dinner party. The date of the play is 407 or 408 based on references to poets and poetry. Sannyrion is one of the "trygic singers" because 'trygedy' (from tryx "wine-lees") was a term for comedy that Aristophanes introduced in Acharnians.
Note 2: This is my last post to turcopolier.com. As a slender man on slender hopes, I've done my best to bring some of our great poetic heritage to your knowledge and appreciation. The occasionally high readership and the perceptive comments show the success of my goal. The mere repetition of more poetic translations will not, I believe, really increase love of Greek, Latin, Italian, German and Russian poetry. Those who love it, always will. Those who enjoy a different mental route to exercise their creativity, will always find it. I wish the best on all of you as I now say sayonara.
Aristophanes Gerytades Fragment Ath. 12.551A
(A) And who to the dead's abyss and gates of gloom
has dared descend? (B) One from each poetic craft
we chose in common during an assembly meeting,
those we knew as Hades-Swarmers and often
feel that place is home. (A) So there are some
men among you who're Hades-Swarmers? (B) By Zeus
many indeed. (A) Like Thrace-Swarmers? (B) You got it!
(A) And who then might they be? (B) First Sannyrion
from trygic singers, and from tragic choruses
Meletus, and from dithyrambic songs Cinesias.
(A) How on such slender hopes you're riding then!
For these men, if strongly it comes cascading,
The river of diarrhoea will carry them far away.