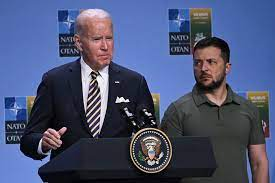 The just-concluded NATO summit in Vilnius delivered a stark message to Ukraine, if anyone was listening above all the background noise: Defeat the Russians and then come to us for membership. The still-NATO Secretary General Jens Stoltenberg almost made a joke of it on the eve of the summit when he was quoted saying the door to NATO membership is open so long as Ukraine does not lose the war, at which point it would be a moot issue.

In his pre-summit interview with CNN's Fareed Zakaria, President Biden echoed the same. No country gets to join NATO while at war, because that would mean NATO immedately enters the war under Article 5 and the U.S. and NATO have made clear they are not ready for war with Russia.

Everything else related to Ukraine was a consolation prize: No Membership Action Program will be required, but Ukraine must still jump through all the governance hoops, including anti-corruption, democratization, etc. The G-7 issued a statement of moral support, pledging continuing assistance, but to be negotiated by each of the G-7 countries on a bilateral basis. The fact that the NATO summit produced a G-7 statement of support to Ukraine, rather than a NATO timetable or concrete list of steps to be taken for membership, was IMHO bizarre. Since when are NATO and the G-7 interoperable? Is all that talk around the Hiroshima G-7 meeting earlier this year about "economic NATO" moving forward or is it just hot air?

Two real-world developments further underscored the Vilnius charade: The much heralded Ukraine counteroffensive has so far stalled. Competent military analysts, including Mike Kofman of the Center of Naval Analysis and War on the Rocks identified the minefields, the multi-layer Russian defenses, and the Russian success in helicopter assaults on Ukrainian forces as factors driving Ukraine to devise a new strategy–based on a war of attrition. That means that the Russians reach the point of exhaustion (of manpower, weapons, and morale) before Ukraine. And that for now does not look like a winning proposition. As former British Defense Minister and NATO Secretary General George Robertson noted this week, Russia is running a round-the-clock arms production cycle, while Britain is running out of weapons and is not showing signs of mobilizing.

The Center for Strategic and International Studies (CSIS) has drawn the same conclusions about the U.S. arsenal of democracy: There is no surge capacity and it will take years to revive it. According to their study, replacing the inventory of 155 millimeter artillery shells will take 4-7 years; Javelin missile replacement 8 years; Stinger missiles 18 years.

They are not alone. The Pentagon issued a study in April on the collapse of the primary defense industry, which went from 52 primary contractors in the 1990s down to five today. It is no secret how that happened. During the Clinton years, following the end of the Soviet Union and the Warsaw Pact, Defense Secretary Bill Perry convened defense industry CEOs and told them that they could not assume production contracts would maintain at Cold War levels, and they needed to diversity to survive. Many of the companies got out of defense production and those that remained merged to secure their market share of dwindling orders. Nobody was ready for the future China defense surge, the Russia-China strategic partnership, or the Ukraine invasion.

Pentagon and intelligence officials point to the 40 countries that meet regularly at Ramstein Air Base in Germany to pledge further weapons to Ukraine, but none have capacity to match what the U.S. used to produce.

Back at Vilnius, Biden blocked British Minister of Defense Ben Wallace from getting the coveted NATO Secretary Generalship, despite Sunak's pleadings during his early June visit to Washington. Stoltenberg sings the Washington tune, while Wallace was pushing the envelope closer to the red line of direct NATO confrontation with Russia. Wallace was notably in a foul mood at Vilnius (and he announced his September retirement right after getting home–he will not even seek his parliamentary seat in the next elections), but he was not speaking out of turn when he bluntly told Zelensky that NATO "is not Amazon" and he should show more gratitude for the weapons he is receiving.

As TTG noted the other day, the Russian forces are dug in and are not about to rush home to finish the Prigozhin Wagner "revolution." So the war is more than likely to drag on into 2024 and perhaps beyond. Information warfare aside, nothing else is certain.