Translated by Steven J. Willett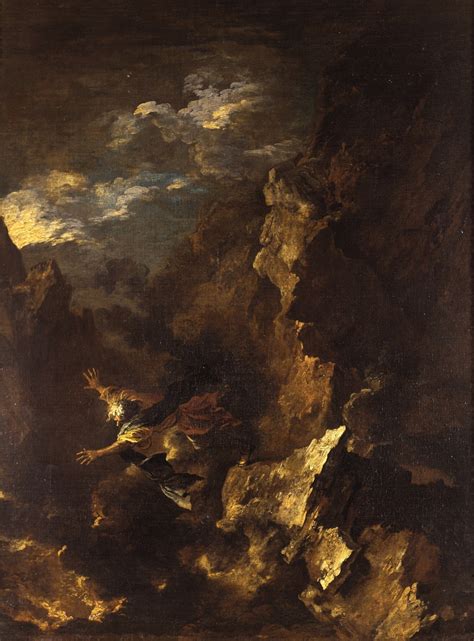 Salvator Rosa, The Death of Empedocles, c. 1665~1670
Note: Empedocles, c. 494~c. 434, was a Greek pre-Socratic philosopher and native citizen of Acragas, a Greek city in Sicily. He was extensively influenced by Pythagoras and his followers. He was also the last Greek philosopher to record his thoughts in verse, and we are fortunate to have more fragments of his work than any other pre-Socratic thinker. For those who might want to explore his complex range of philosophy, I'd recommend The Poem of Empedocles, A Text and Translations with an Introduction, rev. ed., Brad Inwood (University of Toronto Press, 2001).
The life you search for, search, and it wells and gleams

 A godly fire from deep in the earth to you,

   And you in far beholden passion

     Hurl yourself down, into Aetna's blazes.


 So melts the pearls in wine from her arrogance

 The queen; and surely might she! if only you

   Had not your own great wealth, o poet

     Deep in the sweltering chalice offered. 

 
 Yet holy you're to me, as the earth's dominion, 

 That drew you from us, daring the Killedbestower!

   And I might follow down abysses,

     Failed my own love in restraint, to Hero.