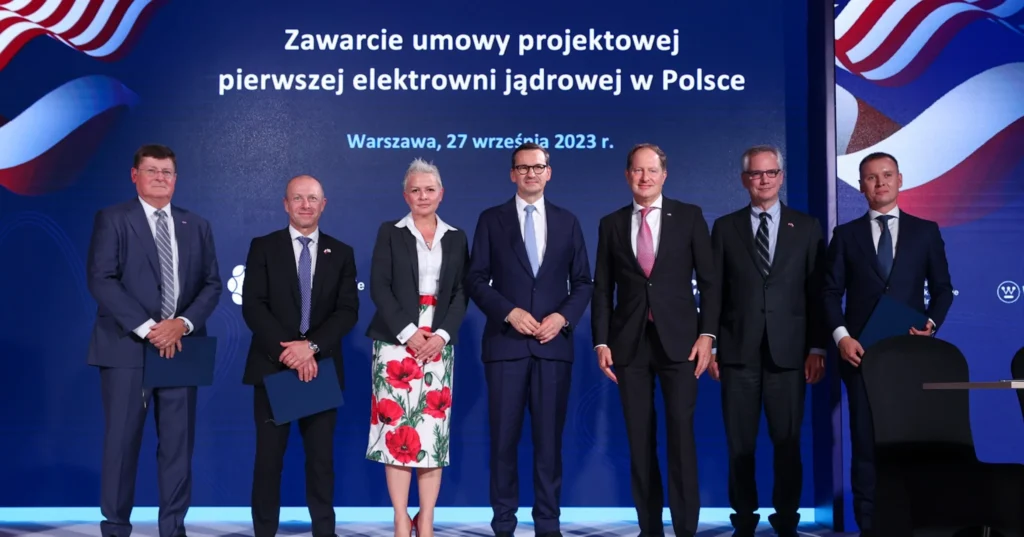 Poland is starting to build a fleet of large reactors TODAY, immediately after signing contracts. They have this one great chance to bury Germany economically.
Germany's economy was based on large and middle-sized industrial companies running on cheap energy. Where did that energy come from? It came from three places: brown coal under German soil; insecure Russian pipeline natural gas; and its outstanding nuclear reactors, the world's most prolific. Germany urged Europe to tax its own brown coal so severely that it multiplies the cost by more than four times. So its own coal isn't cheap any more.
Russia always meant its gas to be a weapon of control. They simply turned off the flow at a time of their choosing in order to assist with launching a war. Only after the flow was stopped did the Nord Stream pipelines get blown up, locking the loss into place. Now Germany has to buy liquefied gas from ships, including from Russia. It's much more expensive than the Russian pipeline gas used to be. So the cheap gas is gone.
That left only nuclear for cheap energy. Germany just months ago in late 2021 had enough ultra-cheap clean nuclear electricity to power a third of its industrial sector at extremely competitive rates. Those plants would last for 50 more years at least. But Germany shut down nuclear anyway.
Now there is nowhere for German companies to turn to get cheap industrial (read: steady, long-term contract) electricity. German factories can't buy cheap power just from wind and solar because those energy sources can't guarantee they'll be available. And once you stabilize their power not with cheap nuclear but with expensive coal and gas, it's not cheap enough to be competitive.
Meanwhile Poland opened a new natural gas pipeline from Norway and is launching their nuclear program construction today. This means if you're a German industrial manager looking to locate the next multi-billion investment that must purchase power for the next few decades, you can't justify placing it in Germany. But you might justify placing it in Poland to coincide with the arrival of its nuclear power. And if you're a German small business owner, you can't get the cheap electricity that your French competitors get from their giant nuclear fleet. Might as well move over the river to France if possible, or close down if not.
Germany can still turn its nuclear fleet back on within a few years but may destroy it instead at the behest of a tiny number of ideology-poisoned politicians. I predict that this colossal energy system shift will reverberate through the rest of this century.
https://twitter.com/energybants/status/1707147477248610701
Comment: These comments come from Mark Nelson, a holder of degrees in nuclear energy, mechanical and aerospace engineering and a degree in Russian language and literature. He is the managing director of the Radiant Energy Group and works around the world to help create a sustainable pronuclear movement. The news that Poland is now on the road to nuclear power is what brought me to Mark Nelson. The Polish reactors won't be on line until 2033, but I guess that's fast for reactors. The design work started the day after the contract was signed and site work is to commence 18 months from now.
Reading further on Nelson's Twitter feed, I see the CDU pledges to restart most of the German reactors if they gain power in Berlin. Eight of the shuttered reactors have been kept in decent shape and can be restarted quickly. I would think that point alone could alter the next elections. Other European countries are considering or planning on opening nuclear power stations. China has four of the Westinghouse designed AP1000 large modular reactors planned for Poland already on line and six more under construction. In addition to the Polish and Chinese reactors, this is the same design that recently came on line in Georgia… the state.
So the world is finally getting serious about moving away from fossil fuels. And this time we're not falling for the nuclear is nothing but bad trope. Even a lot of environmental groups have now seen the error of their ways. If you want to swear off oil and coal, you better have something to replace it reliably. That is unless you all plan on living on roots and berries and living in hollowed out trees.
TTG
https://info.westinghousenuclear.com/news/historic-contract-paves-the-way-for-site-work-on-polands-first-nuclear-power-plant