Translated by Steven J. Willett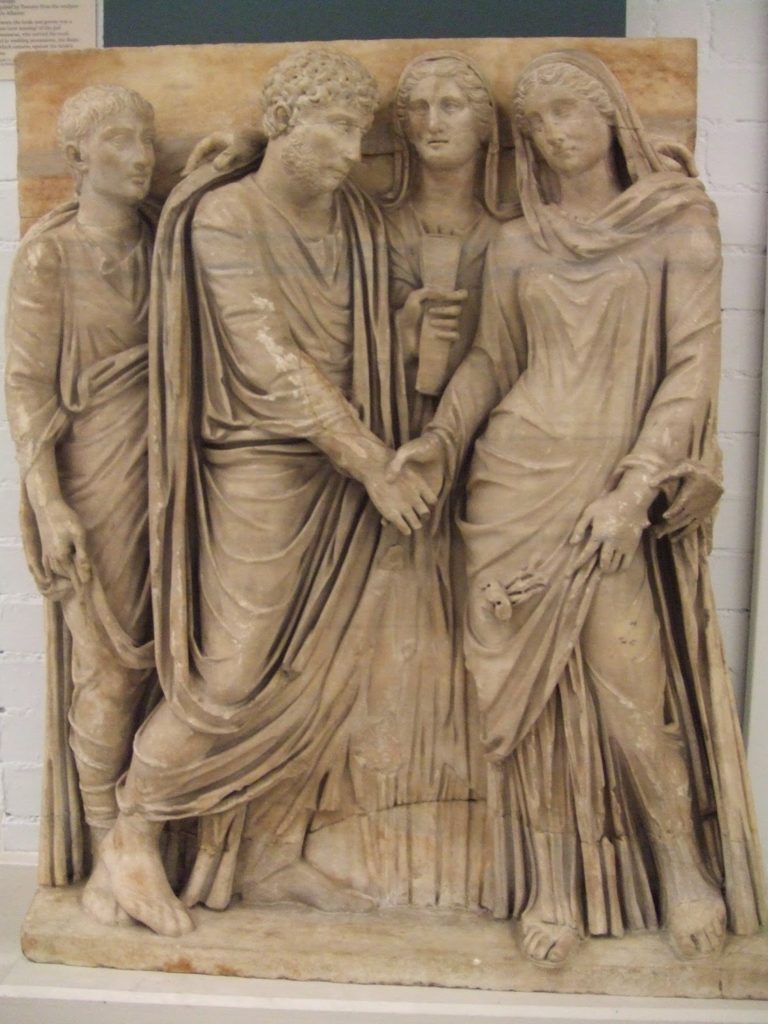 This is a Roman plaque that depicts a marriage with the husband holding the contract and a representative of each family observing the ceremony.
Note: The elegy is a birthday present for Tibullus' good friend Cornatus. We know nothing about him other than what we learn in II.2 and the much longer elegy to him in II.3. There is a possibility, but free of evidence, that he may be identified with M. Caecilius Cornatus, who appears along with Messalla as a member of the Fratres Arvales in an inscription dated 21 or 20 BC. If our Cornatus is an Arval Brother, he is probably older than 40. The god Natalis is the Birthday Spirit who oversees Cornatus' marriage prayers. The Genius mentioned on l. 5 is each man's guardian spirit. See Horace's description of Genius in Epistles 2.2: 189~90.
The elegy is a remarkably moving tribute to the mutually faithful marriage that love can bring some, but never did, to Tibullus in his constant search for "marble-constant" Amore.
We speak auspicious words: Natalis is coming to the altar:


   whoever's present, tongues, both man and woman, hold.


Let us burn sacred incense on braziers, burn perfumery


   the Arabs send to us from opulent land.


Let the Genius now be present to observe his honors,


   whose sacred hair the upple garlands adorn.


With purest spikenard trickling from his temples,


   and let him overflow with cakes and wine.


May he nod assent, Cornutus, to whatever you'll ask.


   Look, act (Why do you loiter? He nods)--so ask! 


I prophesy you'll pray for faithful love of a wife:


   (I think the gods already learned that prayer.)


You never would prefer, whatever's on our entire earth,


   the fields strong peasants plow with straining ox,


and not the precious gems from wealthy India


   produced, where waves in eastern oceans blush.


Your prayers befall: I wish on rustling wings flies here


   and golden bonds of marriage gives you Love,


bonds that may endure forever, until tardy old age


   will bring you wrinkles and inflict the hair. 


May he, Natalis, come as a bird and provide offspring,


   a troop of children playing at your feet.