The following article by Ret. Col. John Mills from The Epoch Times should be of interest to readers of this site.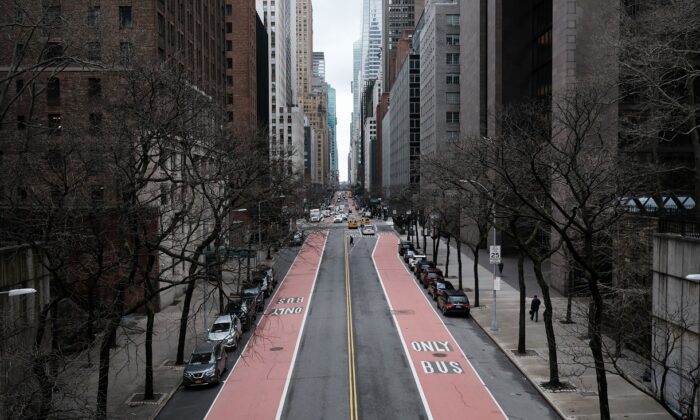 Commentary
If you haven't noticed, the United States is reorganizing itself into two Americas—blue and red. Although there is a president of the United States, state governors are in many ways now driving the national narrative in this new America.
The president and the vice president are who they are now because six Republican-controlled states forwarded questionable electoral votes, and Vice President Mike Pence missed a historic opportunity to challenge those votes. The current president and vice president seem trapped in foggy and abstract ideological slogans rather than providing executive leadership. Vague generalities and virtue signaling aren't replacements for executive leadership.
And who are the true executive leaders of the two Americas? Florida and Texas on one side, California and New York on the other side. Their governors essentially dominate the bully pulpit formerly occupied by a sitting president. Many of the rest of the American states have aligned with one side or the other.
The American political conversation has become a modern Dr. Seuss's "Sneetches With Stars" on steroids as Americans are now beginning to group, assemble, and march separately according to our ideologies. Both sides have equal ownership of this behavior—neither side should be excused or let off the hook on this matter.
Two Americas/Two Systems
A part of this blue/red separation is the manifest "Digital Apartheid" that is being applied by the blue side to the red side to create two social media systems. This Digital Apartheid is pervasive and driven by the new, vicious, lockstep, "social justice" mantra that has taken over the automatons who lead U.S. social media.
We are experiencing an unprecedented shakedown by groups such as Black Lives Matter (BLM) and Antifa who broadcast through their relentless bullhorn of social media and old media.
There are now two business systems in America—blue and red. Many of the businesses that lead major market sectors have now revealed themselves to be de-facto thought police to enforce Social Justice.
MyPillow CEO Mike Lindell is the poster child of this, as he has been targeted for elimination by the self-appointed high priests of "wokism."
We're also finding out there are two financial systems in America, as those with capital now act as the gatekeepers of who receives capital and who is excluded. Bank of America has become "Bank of who I decide to allow access to the capital system." That's a far cry from the intent of its founder, who wanted to make sure all had access. The modern bank staff has now become an appendage of the virtue-signaling synchronized chorus.
There are now two media systems in America. The Hollywood award shows are now a Roman circus of self-loathing, lecturing, and virtue signaling. Few are watching these award shows—in fact, few are watching legacy media as ratings collapse.
It's curious from an agnostic business perspective how CNN even survives at this point in time. Somehow the citizen's pocketbook is being fleeced by corporations and advertisers who recycle ad revenue through "woke" media to keep them alive when it's patently obvious the viewership has imploded—but that's the beauty of the new era of crony capitalism (which is a transition phase to socialism).
The citizens of our nation have consciously or unconsciously chosen sides. If you're angry at yourself for not being woke enough and have righteous virtue-signal signs in your yard lauding BLM, you're likely on the blue side. If the drivel of virtue signaling makes no sense to you, you're probably on the red side.