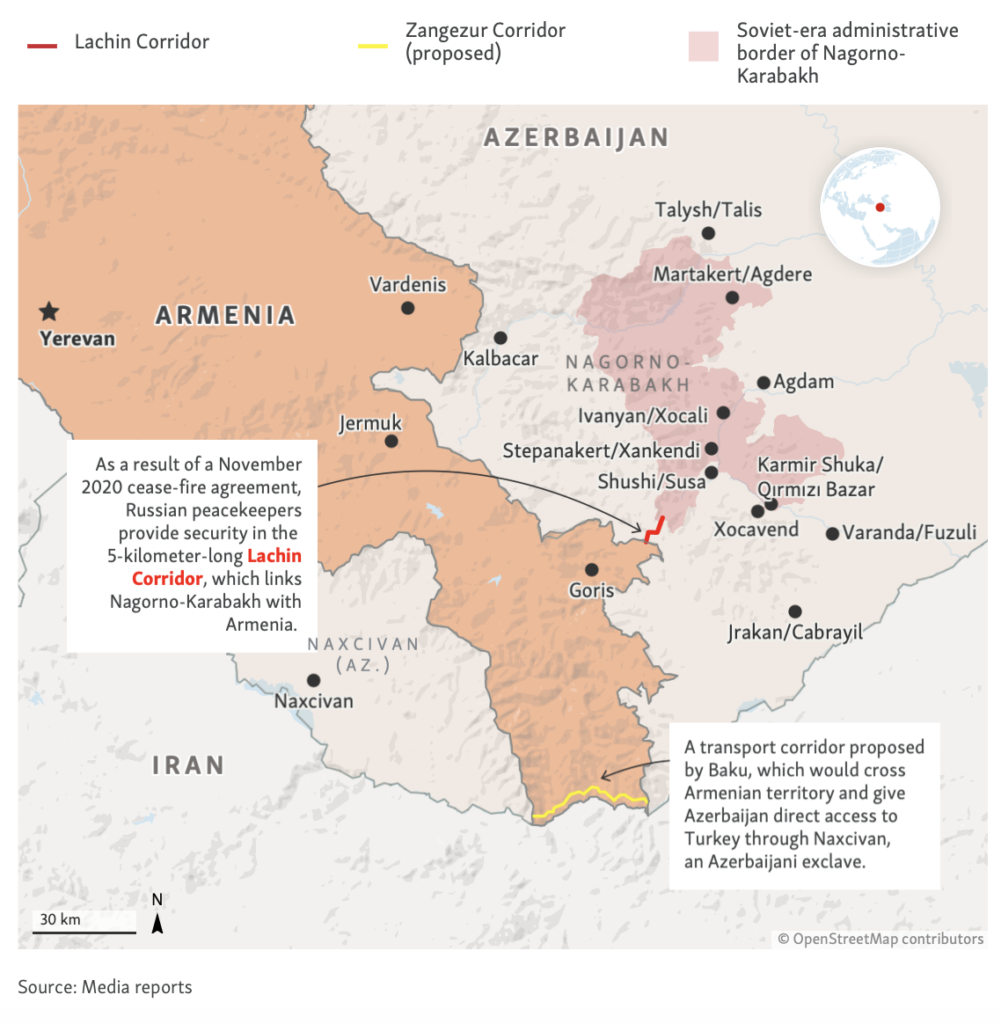 In 2022, Armenia and Azerbaijan started talks on a peace agreement that would formally delimit their mutual border, renounce territorial claims against each other, reestablish diplomatic relations, and rebuild transport links that have been broken for more than three decades. Those talks failed to prevent a violent resolution of the Karabakh issue, but they are set to continue as the two leaders work out the other issues on their agendas.
The last point — rebuilding the transport links — has been one of the most contentious and, in recent days, has prompted much mutual speculation. Azerbaijan and its key ally Turkey have signaled that, at least rhetorically, they are stepping back on one of their demands: that Armenia allow a road through its territory connecting Azerbaijan's mainland and its exclave of Naxcivan. Now that Nagorno-Karabakh has been fully reconquered, the transportation question represents "the next big issue" in Armenian-Azerbaijani talks, wrote Thomas de Waal, an analyst at Carnegie Europe.
At issue is a transportation route that has become known by Azerbaijan's term for it, the "Zangezur Corridor," which was borne out of the cease-fire agreement that ended the 2020 war between the two sides. That deal included a provision committing Armenia to "guarantee the security" of transportation connections between Azerbaijan's mainland and Naxcivan. It didn't specify any particular route, but the shortest way between Naxcivan and the rest of Azerbaijan is through Armenia's Syunik Province, known in Azerbaijan as Zangezur.
The 2020 agreement further stipulated that movement on those routes should be "unobstructed," which led to disagreements about what, precisely, counted as an obstruction. Azerbaijanis initially signaled that they wanted the road to be a true corridor, with no Armenian border or customs officers checking vehicles or cargo as it passed through Armenian territory.
The route would connect Azerbaijan more tightly to Turkey, which shares a border with Naxcivan but not with mainland Azerbaijan. And Azerbaijani and Turkish officials have spoken of the would-be corridor in grandiose terms, as a means of linking the entire Turkic world, from Istanbul to Central Asia, with uninterrupted East-West road and rail connections.
The Armenian side has objected that that would amount to the country losing sovereignty over part of its territory, and a strategically vital part at that: The presumed route of the corridor would pass along the Iranian border, potentially hindering Armenia's access to Iran, one of its key regional allies and trade partners.
Iran, too, has objected, repeatedly hinting that it would not allow its border with Armenia to be obstructed. Armenia's fears were exacerbated by barely veiled threats from Aliyev to impose the corridor by force: "The Zangezur Corridor is a historical necessity," the president said in January. "It will happen whether Armenia wants it or not." Iran has not officially commented on the issue since the Karabakh surrender.
https://www.rferl.org/a/azerbaijan-armenia-negotiations-zangezur-corridor/32613002.html
Comment: I remember a TV game show and a board game based on this dilemma. In those games, someone had to win and somebody had to lose. In real life we face this dilemma every time we come to a cross road. We solve it with a traffic light, a four way stop or, increasingly, a rotary or roundabout.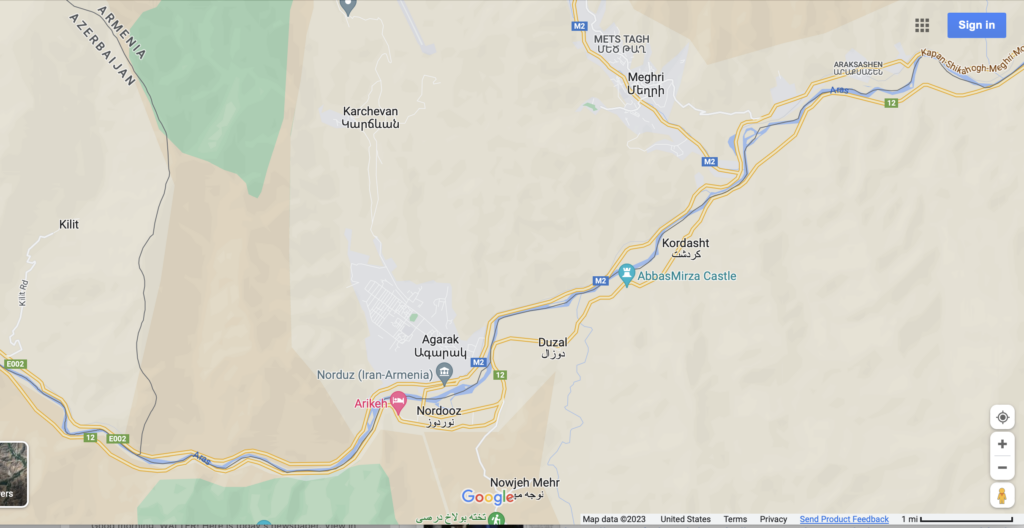 Armenian and Azerbaijani negotiators are scheduled to meet in Spain later this week to begin negotiating such things. A closer look at the border region shows only one permanent bridge over the Aras River along the Armenian-Iranian border at Agarak-Nordooz. Logic would dictate establishing an international stretch of the road along the M2 leading to that river crossing. Turkey and Iran just came to a border agreement to move Kurds away from their mutual border. I'm sure they'll both have something to say about the Zangezur Corridor.We'll see if all the parties can be logical.
TTG