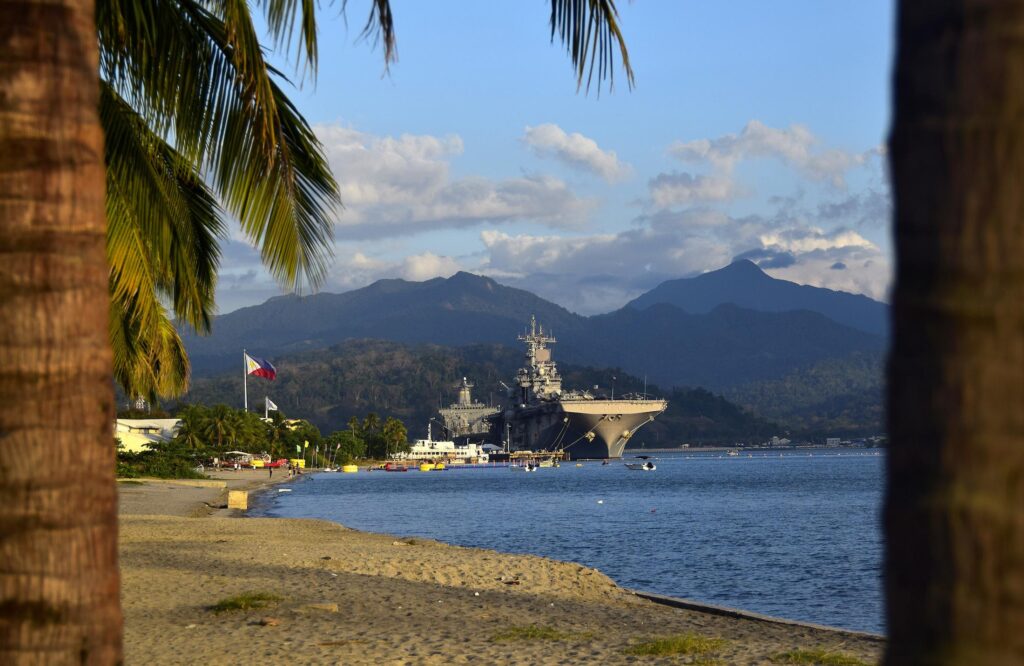 CNN  — The Philippines will provide the United States with expanded access to its military bases, the two countries said Thursday, providing US forces with a greater strategic footing on the southeastern edge of the South China Sea close to self-ruled Taiwan. The newly announced deal will give the US access to four more locations under an Enhanced Defense Cooperation Agreement (EDCA) dating to 2014, allowing the US to rotate troops to a total of nine bases throughout the Philippines.
In November, US Vice President Kamala Harris visited the Philippines to discuss expanded US base access with the recently elected President Ferdinand "Bong Bong" Marcos Jr. Some experts said her visit sent an unambiguous message to Beijing that the Philippines is moving closer to the US, reversing the trend under the previous president, Rodrigo Duterte.
Washington and Manila are bound by a mutual defense treaty signed in 1951 that remains in force, making it the oldest bilateral treaty alliance in the region for the United States. In addition to the expansion of the EDCA, the US is helping the Philippines modernize its military and has included it as a pilot country in a maritime domain awareness initiative. The two countries also recently agreed to hold more than 500 activities together throughout the year.
Earlier this month, the Philippines announced that 16,000 Philippine and US troops would take part in the annual Balikatan exercise, which is set to take place from April 24 to April 27. That exercise will include "a live fire exercise to test the newly acquired weapons system of the United States and the Philippines," an announcement from the state-run Philippine News Agency said.
https://www.cnn.com/2023/02/01/asia/us-philippines-base-access-agreement-intl-hnk-ml/index.html
Comment: Looks like we're coming full circle in the Philippines. That's going to tie a knot in Xi's tail. I remember my days there with Task Force Cacti embarked on the USS Cleveland, riding out a typhoon, conducting amphibious landings in the monsoon, trading C-rations for chicken adobo, Olongapo and Angeles City. Those were interesting times.
Our battalion XO was held up by guerillas/bandits on the white knuckle express between Subic and Clark. I witnessed a shoot out in the streets between Philippine Constabularies and those guerillas. A Philippine combat patrol gave my mortar section target coordinates while we were conducting a live fire. There was no differentiation between firing range and training area. And the Philippine Army's idea of blanks was to fire live rounds into the dirt. Interesting times, indeed. There will be more interesting times ahead.
TTG