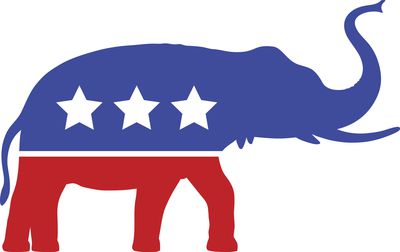 "Americans' political party preference during 2021 shifted from Democrat to Republican in the largest move since Gallup began regularly measuring party identification and leaning in 1991.
Democrats went from a nine-percentage-point advantage in the first quarter of 2021 to a rare five-point deficit to the GOP in the fourth quarter, Gallup said Monday.
A total of 49% of Americans considered themselves Democrat in last year's first quarter, but that fell to 42% in the final quarter. Survey respondents identifying as Republican increased from 40% to 47% during the same period.
The survey results were based on aggregated data from all U.S. Gallup telephone surveys in 2021, which included interviews with more than 12,000 randomly sampled adults.
The fourth-quarter numbers belied the overall 2021 average that said slightly more U.S. adults identified as Democrats or leaned Democratic (46%) than identified as Republicans or leaned Republican (43%).
Gallup's latest monthly estimate, from December, showed the two parties about even — 46% Republican/Republican leaning and 44% Democratic/Democratic leaning."
https://www.newsmax.com/newsfront/gallup-party-affiliation-identify-gop/2022/01/17/id/1052719/