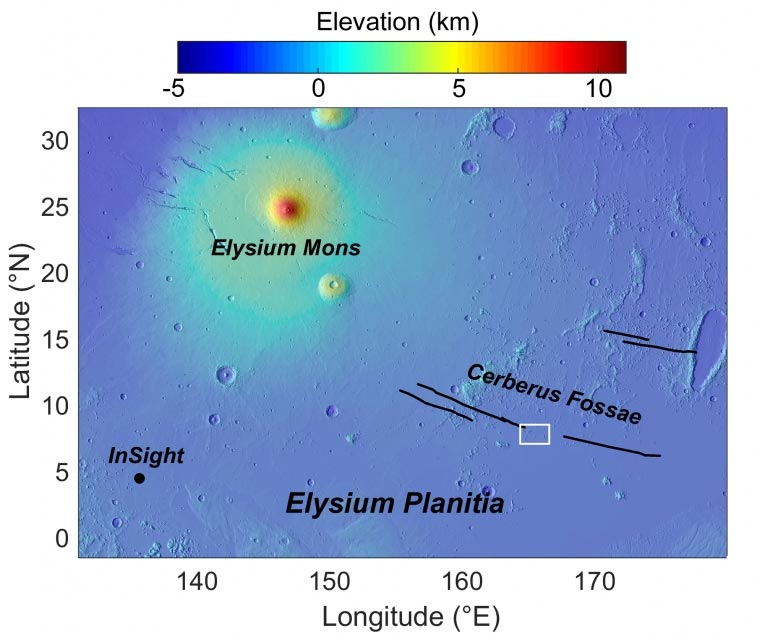 "The majority of volcanism in the Elysium Planitia region and elsewhere on Mars consists of lava flowing across the surface, similar to recent eruptions in Iceland being studied by co-author Christopher Hamilton, a UArizona associate professor of lunar and planetary sciences. Although there are numerous examples of explosive volcanism on Mars, they occurred long ago. However, this deposit appears to be different.
"This feature overlies the surrounding lava flows and appears to be a relatively fresh and thin deposit of ash and rock, representing a different style of eruption than previously identified pyroclastic features," Horvath said. "This eruption could have spewed ash as high as 6 miles into Mars' atmosphere. It is possible that these sorts of deposits were more common but have been eroded or buried."
The site of the recent eruption is about 1,000 miles (1,600 kilometers) from NASA's InSight lander, which has been studying seismic activity on Mars since 2018. Two Marsquakes, the Martian equivalent of earthquakes, were found to originate in the region around the Cerberus Fossae, and recent work has suggested the possibility that these could be due to the movement of magma deep underground.
"The young age of this deposit absolutely raises the possibility that there could still be volcanic activity on Mars, and it is intriguing that recent Marsquakes detected by the InSight mission are sourced from the Cerberus Fossae," Horvath said. In fact, the team of researchers predicted this to be a likely location for Marsquakes several months before NASA's InSight lander touched down on Mars" scitecgdaily
Comment: We are learning more and more about Barsoom. I suspect that underground lava tubes and the like will become the base areas for early settlement. pl
https://scitechdaily.com/evidence-of-active-volcanoes-on-mars-raises-possibility-of-recent-habitable-conditions-mars-isnt-dead/