Translated by Steven J. Willett
A.P. 5.143, A.P. 5 148, A.P. 5.155, A.P. 5.163 and A.P. 7.476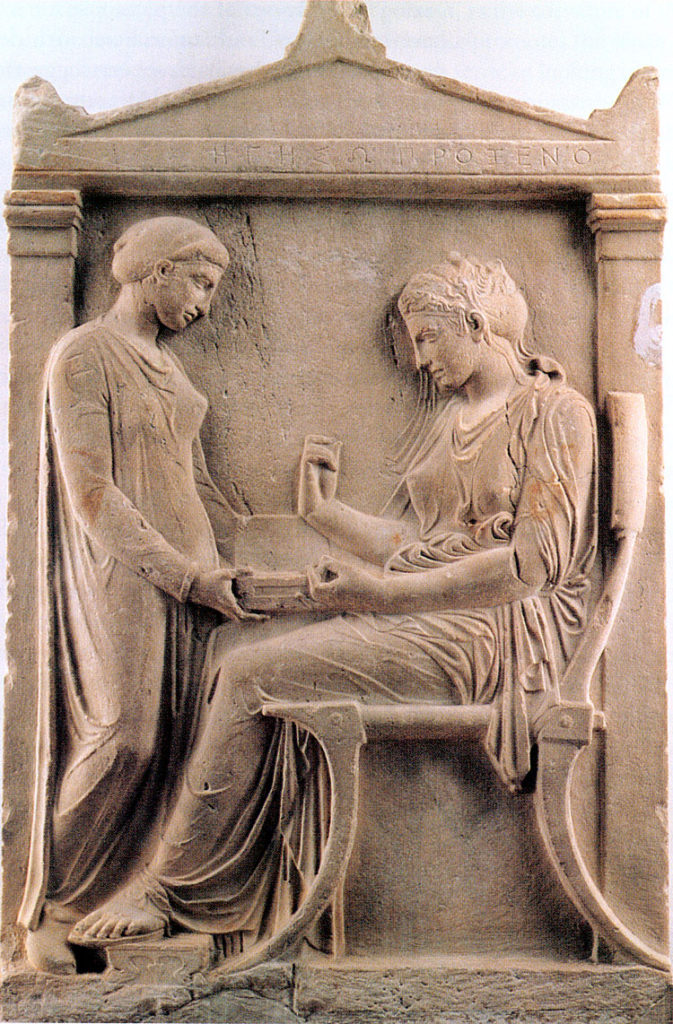 This is the grave stele of Hegeso c. 400BC with her father's name Proxenos on the architrave. The stele is 5'2" in height and was displayed on her tomb in the Kerameikos Cemetery of Athens. It's located in the Athens National Museum. Hegeso is stringing a necklace in both hands from the jewelry box held by her maid. She reviews some of the little beauty that she enjoyed in her life.
Note: Meleager cites Heliodora more often (15 times) than any other of his women. The genuine depth of his love is I think clearly displayed in the epitaph he wrote for her, which is charged with emotional vitality that can be found in no other Hellenistic sepulchral elegy. I have preceded the epitaph with several unique poems that seem to reflect his passion. Please note that in l.2 of the epitaph the translation "affection" is a translation of the Greek word στοργή, which means 'familial affection' or 'natural instinctual affection.' It's untranslatable with the word 'love.'
A.P.5.143
The garland around the brow of Heliodora is withering
but she shines forth a garland of the garland
A.P.5.148
I declare that someday in stories sweet-speaking Heliodora
will conquer Graces themselves by her own graces.
A.P.5.155
Within my very heart the sweetly-speaking Heliodora
Eros himself has fashioned soul of soul.
A.P.5.163
O flower-nurtured bee, tell me why on Heliodora's skin
you touch, and fly away from springtime buds?
Or are you then implying that she's both sweet and hard-bourn,
sharp always to the heart, with Eros' sting?
Yes, I think you said just this. Off, O lovers' flirt, returning
march home: long past we knew your stale news.
A.P. 7.746
Tears to you even down through the deep earth, Heliodora,
I give, all my affection remnants, to Hades,
tears so drearily wept: much lamented on your burial mound
I pour fourth memory longing, memory friendly.
For piteous piteous you, still beloved in death of Meleager,
I cry out, empty grace to Acheron.
O grief, where is the desired child to me? Death has snatched her,
has snatched a blooming flower smudged with dust.
But you I beseech, Earth all nourishing, the most lamentable girl
gently to your bosom, mother, clasp with arms.