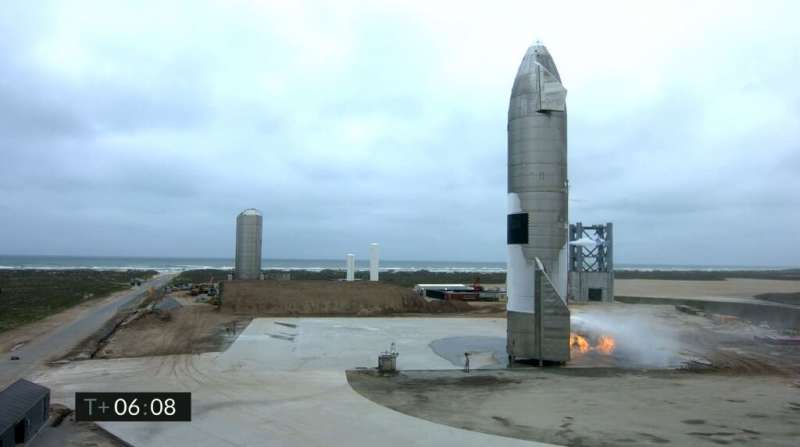 "The test flight represents a major win for the hard-charging company, which eventually wants to carry crew inside Starship for missions to Mars.
"Starship landing nominal!" tweeted founder Elon Musk triumphantly, after the last four tries ended in big explosions.
"Nominal" means normal in the context of spaceflight.
The execution wasn't quite perfect, with a small fire engulfing the base of the 50 meter- (160 feet-) high rocket, dubbed SN15, shortly after landing.
SpaceX webcaster John Insprucker explained this was "not unusual with the methane fuel we're using," adding engineers were still working out design issues.
The flames were quickly put out with water cannons, footage showed.
Earlier, the rocket took off at around 5:25 pm local time (2225 GMT) from the Starbase in Boca Chica in southern Texas, reached an altitude of 10 kilometers (6 miles) and performed a series of maneuvers, including a horizontal descent called a "belly flop."" phys.org
Comment: "wasn't quite perfect" Say what? Well, pilgrim turcopoles, I will admit to momentary disquiet at the sight of the small fire burning at the foot of the Starship. But, having learned from their last experience with a fire like that post-landing, SpaceX had installed a sprinkler system on the LZ for the purpose of extinguishing the flames.
Good work Elon! Good work. pl
https://phys.org/news/2021-05-touchdown-spacex-successfully-starship-rocket.html