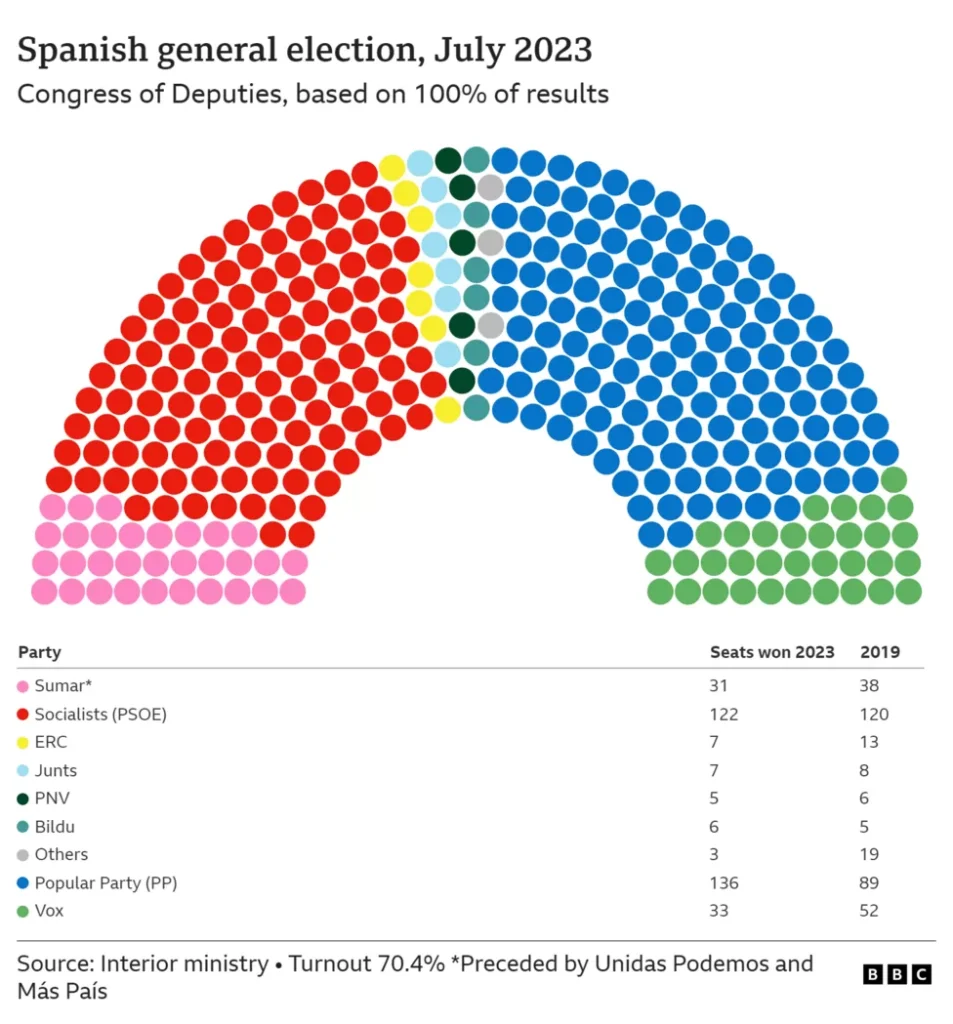 The leader of Spain's opposition conservative party Alberto Núñez Feijóo has claimed victory in a snap election, but without the result he needed. Even with the support of the far right, his Popular Party (PP) has fallen short of a majority in parliament. The cheers at the rival Socialist camp were just as loud as Socialist Prime Minister Pedro Sánchez declared: "The reactionary bloc has failed." While both can claim success, Spain is left with an inconclusive result.
But Mr Sánchez has been vindicated in his controversial decision to call the vote in the searing heat of a Spanish summer, when election-day temperatures reached 40C in some parts of the country. Turnout topped 70%, as voters sensed the importance of the election, breaking off from their holidays to vote in swimwear and with beach gear in tow.
"No pasarán," supporters chanted outside Socialist HQ – they shall not pass – referring both to far-right party Vox and the anti-fascist slogan of the Spanish civil war. Nonetheless, Mr Feijóo told cheering conservative supporters that it was now his duty to try to form a government. "Spaniards know we have gone from being the second force to the party with the most votes," he said, adding: "I hope this doesn't start a period of uncertainty in Spain." But that is what Spain is facing. Because with Vox on 33 seats and Mr Feijóo's PP on 136, they would be seven seats short of an absolute majority of 176 in parliament, so the most likely result of this election is another poll towards the end of the year.
That is why Mr Sánchez's Socialists and his far-left allies Sumar appeared happiest. "The reactionary bloc of regression, which set out a complete reversal of all the advances that we've achieved over the past four years, has failed," he told supporters.
https://www.bbc.com/news/world-europe-66285245
Comment: This election was widely expected to result in a clear conservative win, but it looks like forming a conservative government will be difficult at best. The probable result is deadlock until a new election can be held sometime in December.
Still it's a definite move towards conservatism and nationalism in Europe. Hungary and Poland are already there and Italy recently joined the move. Pretty good participation considering the European summer holidays and the sweltering heat. The BBC article below gives a good synopsis of the major parties and their leaders.
TTG