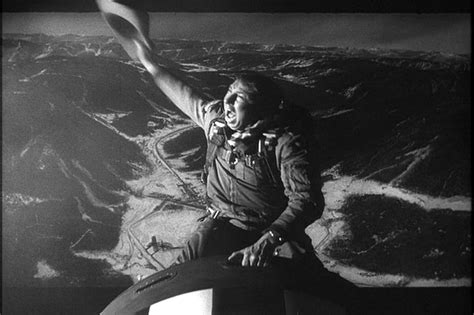 "He's not saying we won't get our hair mussed.
I allude of course to Roger Wicker, who is a U.S. Senator from Mississippi.
The senator seemed to be stepping out of the Cold War movie "Dr. Strangelove" when he commented on how the U.S. should react to the current kerfuffle in Ukraine.
"I would not rule out American troops on the ground," Wicker told Neil Cavuto of Fox News. "We don't rule out first-use nuclear action."
That echoed a line from that classic 1964 Stanley Kubrick movie. It came when an Air Force general played by George C. Scott told the president that we could catch the commies "with their pants down" if only he would authorize a full-scale nuclear strike on the Soviet Union.
After the president pointed out that a Soviet reprisal could kill millions of American civilians, the general replied, "I'm not saying we won't get our hair mussed. But I do say 10 to 20 million killed. Tops!"
Wicker didn't give us an upper limit on the number of American civilians that would be killed if we got into a nuclear war with the Russians.
But that 20 million would be a low estimate, said one New Jersey politician who knows his way around nuclear weapons.
"Does he realize the Soviets have ICBMs and nuclear submarines?" Mike Doherty said of Wicker. "There's gonna be a nuclear response if we use nuclear weapons."
Doherty, who is a state senator from Warren County, certainly realizes that. Straight out of West Point, he commanded a nuclear artillery battery in Germany.
Back then it was thought that the NATO allies couldn't repel a Soviet attack without tactical nukes. But now that the Cold War's over, we should let the Russians and Ukrainians work out their differences without U.S. intervention, he said.
"How is Ukraine in the national security interests of the United States?" Doherty asks. "You can't get one out of a thousand Americans to pick out Ukraine on a map."
When it comes to foreign affairs, Doherty is part of the Ron Paul wing of the Republican Party, which is often derided as isolationist by the neoconservatives who dominate the GOP.
The neocon Daily Caller, for example, just ran an article deriding Biden for what the writer said was his suggestion to the Ukrainians that they should grant autonomy to the parts of the country where pro-Russian sentiment is predominant.
Whether Biden is really doing that remains to be seen. But another Cold War veteran, former Defense Intelligence Agency operative Pat Lang, argues that the Russians rightly fear that the U.S. wants to extend the NATO alliance to include Ukraine.
"Consider the analogy if Canada had decided to join the Warsaw Pact during the Cold War," Lang said. "Would we have liked that?"
As the Soviet Union was breaking up, the first President Bush told the Russians we had no intentions of extending NATO into Eastern Europe, he said. Bush 41 even counseled the Ukrainians that it might be wise to stick with the Russians.
"Americans will not support those who seek independence in order to replace a far-off tyranny with a local despotism," Bush said during his visit there in 1991. "They will not aid those who promote a suicidal nationalism based upon ethnic hatred."
That was widely derided as Bush's "Chicken Kiev" speech. But in retrospect it was realistic.
Lang runs a blog that is a center for military and intelligence realists.
But "realism" is a dirty word in D.C. Any suggestion that the U.S. shouldn't sort out the world's problems is seen as a sign of weakness by the party in power.
At the moment it's largely Republicans calling on President Biden to do something to teach those rotten Russkies a lesson. But the hard-liners have a presence in the Democratic Party as well.
New Jersey Sen. Robert Menendez, who chairs the Senate Foreign Relations Committee, is calling on Biden to threaten Putin with "the mother of all sanctions."
"The Russian bank sector would be wiped out. Sovereign debt would be blocked," said Menendez, adding that the sanctions "would cripple the Russian economy."
Perhaps they would. But what would happen to the European and American economies if all that Russian gas and oil were taken off the world market?
Either way, we shouldn't put Putin in a position where he's willing to risk a shooting war, Lang said.
"These people are playing with fire," he said. "Putin has said 'Whoever attacks us, we're going to attack their platforms and their command-and-control centers,'"
Lang noted that the distance between his home in Virginia and the U.S. command-and-control center, the Pentagon, is about three miles as the crow flies – or the guided missile.
Either way, when it comes to Ukraine we shouldn't risk even one American life. Tops." Mulshine