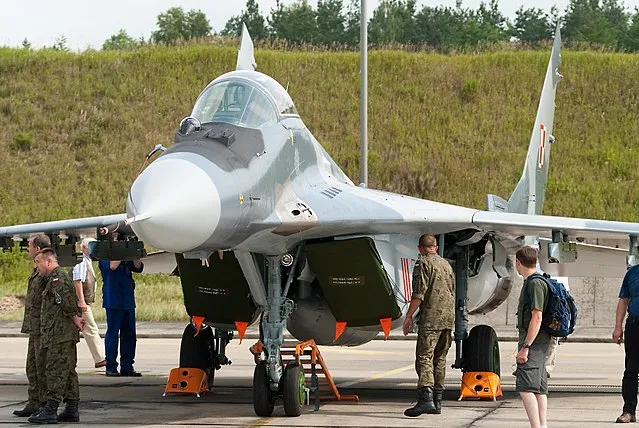 In the beginning of March [2022], Ukraine was in dire need of additional fighter jets. Poland was willing to provide them, but there was a catch. At that time Russia officially warned against using western airbases by Ukrainian aviation, threatening that it "may be regarded as the involvement of these states in an armed conflict." Therefore, if planes were to be flown from Poland directly to Ukraine, in best case scenario they could be targeted by the enemy, in worst case – retaliation could struck Polish AB's.  
Fully aware of that risk, Warsaw tried to convince US to put its weight behind the idea and therefore insure it against what ever Russia comes up with. But Washington was reluctant, sending mixed messages depending who have been asked. US didn't want to back Poland in this act, neither did it send additional air cover of Polish AB's. There was no clear answer and the time was running. 
More over, Washington told Zelensky that's it's Poland that is holding up the transfer of planes, which made Ukrainian president call president Duda asking – WTF? Unwilling to take the blame, Poland decided to force US hand, openly proposing that jets will fly over to Germany's Ramstein AB, where they will be abandoned. Polish Pilots will go back home by bus or train and Warsaw won't care who picks them up and where they are going to fly. If Polish AB's could risk taking the Russian heat, why not German/American Ramstein?
That got Washington angry. Book quotes one of the ministers saying that Americans called asking "what kind of game are you playing with us?" to what they got bounced back with "how about you?". Blinken said to the press that "there are difficulties" with this idea adding that each country can provide whatever help it wants. But that was Blinken, while NSA was staunchly against. Hardly a unified and strong message for Russia.
Therefore, Warsaw decided to look for a way to directly transfer the planes without giving Kremlin any reasonable anchor for reaction. 
One of the Polish ministers (Jakub Kumoch) from presidential office called his Ukrainian counterparts, and because he was respected and also on a very friendly level, asked them jokingly if they knew that in Polish language the name 'Ukraina' derives from 'ukraść', a Polish word for stealing? And if they still remember how to run a scheme. Nobody got offended (at least author doesn't mention that), and the message was clear. Later on Ukraine was notified of certain parts being left on a specific location near the border. Completely unattended.
Next day parts were gone. Americans supposedly asked if Ukrainians managed to assemble them back into one piece, and if so, then where? The reply was "Yes, in the forest". In fact, Ukrainians were doing exactly that in the beginning of war, operating from field airstrips in forested areas. Changing location after each 24 hours. With their skills, assembling a plane they were perfectly familiar with did not present any challenge.
While exact date was not provided, it seems that this whole operation was carried out around March/April 2022.
—
My private side note (book doesn't mention any of that):
It's a common knowledge among Polish domestic military experts, that Poland provided Ukraine with immensely more than what was officially reported thus seriously degrading its own military capabilities. 
Details? We don't know all the numbers, but the talk is about as much as (!) ~350 T72/PT91 tanks, ~300 BMP-1, 72 Krab SPH, ~126 2S1 SPH, ~60 Grad MLRS, two dozens of S125 and S200 AD systems, and a lot of other stuff. Much of it came straight from Polish field units. This is probably one of the main reasons to why it's being kept as a secret, and also an explanation to why Poland went on a buying spree kicking the spending to 4% of its GDP.
https://twitter.com/FilippDM/status/1724788032665243973
Comment: Another tale from the Parafianowicz book that I could not resist passing on. Not sure if this early forest transfer of MiG-29s was ever made public before. I can see a movie being made from this. I doubt F-16s would weather this kind of forest transfer as well as the MiG-29s. I would think it would be out of the question for the F-35, unless it possesses some kind of modularity I don't know about. This and Poland's other unacknowledged equipment transfers as detailed by Dąb-Mirowski may be just the tip of the iceberg. Other countries are probably lending assistance quietly and without fanfare. I'd actually be happy to not hear about any transfers until some Russian target goes bavovna. Surprise!
TTG