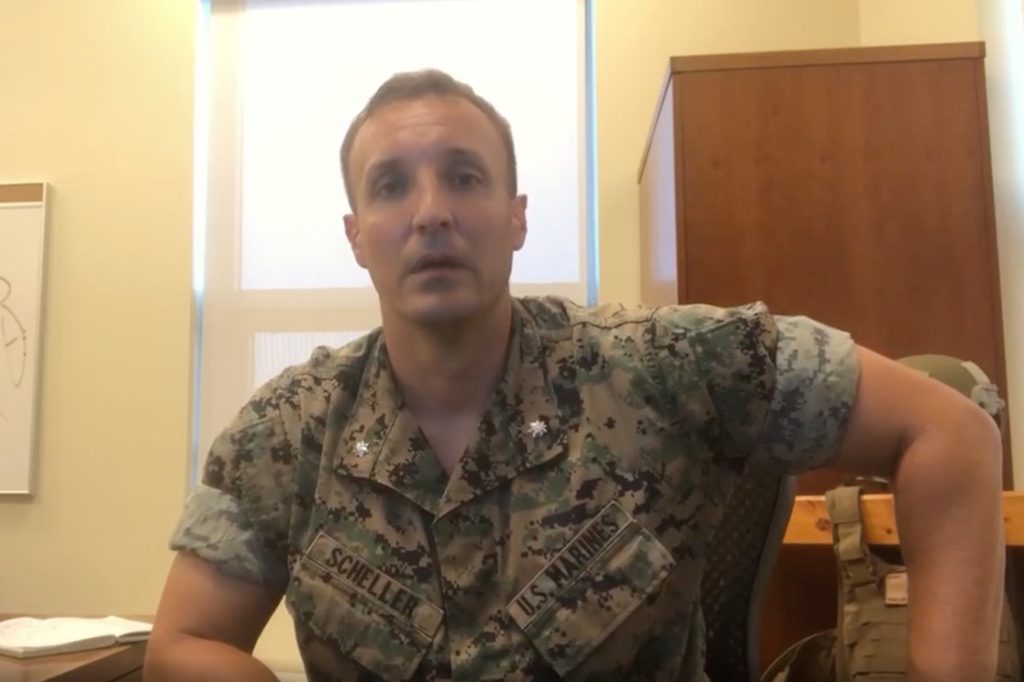 "The US Marine Corps officer who was relieved of his command for chastising his bosses over the botched Afghan withdrawal has landed in military lockup, his father said.
In a video that went viral on Facebook last month, Lt. Col. Stuart Scheller ripped into military leadership following the devastating suicide bombing at the Kabul airport, which killed 13 US service members and scores of Afghans.
Following the impassioned spiel, Lt. Col. Scheller announced he was resigning his commission and walking away from a $2 million pension after 17 years of service.
He later announced that he was ordered to undergo a mental health screening.
Now, his father told Task & Purpose that the officer is currently in the brig.
"All our son did is ask the questions that everybody was asking themselves, but they were too scared to speak out loud," Stu Scheller Sr. told the news outlet.
"He was asking for accountability. In fact, I think he even asked for an apology that we made mistakes, but they couldn't do that, which is mind-blowing," the elder Scheller said, adding that his son is due to appear before a military hearing on Thursday." NY Post
Comment: Commissioned officers are not usually placed in pre-trial confinement. The US Marine Corps thinks this man is a flight risk? They think he is a menace to the public? They have sent him to the shrinks because they can't believe a sane man would have thrown his career away?
German field marshal Prince Rupprecht Wittelsbach said of the British Army in WWI that they were "an army of lions led by asses." What would he have said of the "leaders" who have treated this brave soul so foully?
I defy anyone to tell me how the leadership of the marines and DoD can torture UCMJ enough to find a chargeable offense in what Scheller did in calling for accountability for the misdeeds of leadership. "Conduct unbecoming …?" Quite the contrary thing. Quite the contrary.
Milley, McKenzie and Austen are to testify before Congress the next two days. Will the Congress ask of Scheller's fate? pl
https://nypost.com/2021/09/28/lt-col-stuart-scheller-being-held-in-military-lockup/