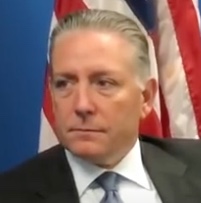 By Robert Willmann
Before retiring from the FBI in September 2018, Charles McGonigal was the Special Agent in Charge of the Counterintelligence Division of the New York Field Office, after being appointed by former Director James Comey on 4 October 2016 [1]. He is charged with crimes in separate federal courts. One indictment with five counts, plus a request for the forfeiture of property, was filed on 12 January 2023 in the Southern District of New York (Manhattan), and the other one with nine counts was filed on 18 January in Washington DC.
McGonigal is a co-defendant with a "former Soviet and Russian diplomat", Sergey Shestakov, in the New York indictment. They are accused of violating sanctions and money laundering laws while trying to help a known Russian "oligarch", Oleg Deripaska.
Shestakov is described as "having served as a translator and diplomat for the Ministry of Foreign Affairs of the Soviet Union and the Russian Federation from 1979 until his retirement in 1993, often in New York, New York". And further: "After his retirement … Shestakov worked as an interpreter for the federal courts and United States attorneys' offices in the Southern and Eastern Districts of New York".
Who the hell is in charge of hiring translators at the Department of Justice? They hire an obvious Russian intelligence operative to translate for them!
The second indictment is based on alleged false statements on financial and contact reporting forms, and is against McGonigal only. One of the accusations involves receiving more than $225,000 from "Person A", an Albanian, and not disclosing it.
Both McGonigal and Shestakov made an initial court appearance in New York City this afternoon, 23 January, and pled not guilty. Terms for release on bail were ordered.
There are reports that McGonigal was involved in some way with the discredited Russia-Trump 2016 election investigation. Whether more information on that issue will be developed remains to be seen.
---
[1] http://www.fbi.gov/news/press-releases/charles-mcgonigal-named-special-agent-in-charge-of-the-counterintelligence-division-for-the-new-york-field-office