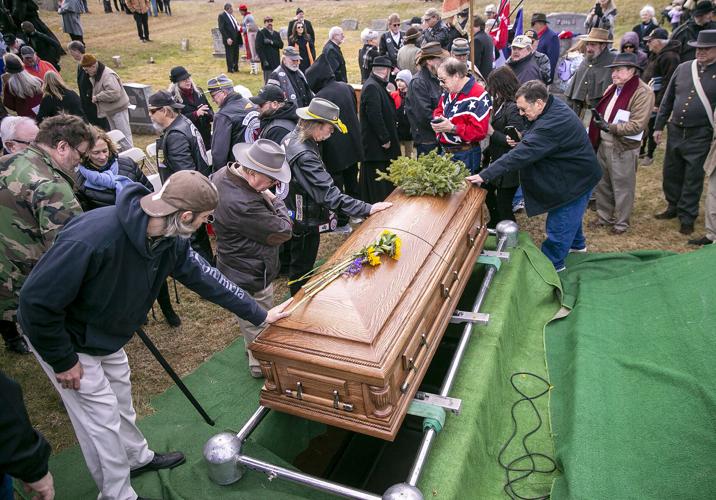 The final resting place of Civil War Gen. A.P. Hill has been anything but that, as his remains were put in the ground, dug up and moved, three times in the 19th century. Then, when the city of Richmond decided to do away with its Confederate monuments in the wake of George Floyd's murder and amid the Black Lives Matter movement, the general's remains were moved once more. A statue of Hill with his bones in the base was taken down last month from the intersection of Laburnum Avenue and Hermitage Road in the state capital.
Neither the first burial or the reinterment services that followed came with military honors, said Patrick Falci, a New York actor and historian who's portrayed Hill for 30 years. Those who gathered at a cemetery in Hill's hometown of Culpeper made up for all that on Saturday with a ceremony for the ages.
An estimated 600 people, including Confederate reenactors wearing gray and butternut uniforms, gathered to pay their respects to the general at what they hope will be his permanent resting place at Fairview Cemetery. A mule-drawn wagon brought the coffin, draped in an old Virginia flag, into the cemetery as hundreds of soldiers stood at attention. Next came a rider-less horse as a drummer provided a steady beat. After Falci's eulogy, songs and prayers, Longstreet's Corps loaded muskets and fired a 21-gun salute while those with Knibb's Battery let off three rounds from a spit-polished shine cannon named "Jeb." The VA Scots Guards played "Amazing Grace" on the bagpipes; Susan and Scott Carraway played a mandolin and acoustic guitar and led the crowd in "Carry Me Back to Old Virginny;' and a solitary bugler played "Taps."
"Gen. Hill has been known as Lee's forgotten general," said a theatrical Falci, as he took microphone in hand and walked among the gravesites. "But not today. Not here in Culpeper. Not here in Virginia."
https://fredericksburg.com/news/local/civil-war-generals-remains-come-back-to-his-hometown/article_dd02381a-99d1-11ed-9895-f35f329109b1.html#tracking-source=home-top-story
Comment: Yup, another Civil War story. This one, by Cathy Dyson, was the lead story in today's Free Lance-Star. The online article has a series of photos and a video of the reburial.
AP Hill's monument and burial site was in an odd spot in Richmond. He was first reinterred in Richmond's Hollywood cemetery a few years after his death at Petersburg. I don't know why he was much later moved to a street intersection in northern Richmond. Someone please enlighten me if you know the answer. Clearly the third time is the charm. He is now back home in a Culpeper cemetery that he would have known in his youth. When his monument was removed and his remains exhumed, they were covered not with a Confederate flag but with a Virginia state flag. At his reburial, the same state flag covered his new coffin. At the December exhumation there was no demonstration. One argument erupted, but it ended in an embrace of tolerance and understanding. There were no demonstrators or protestors at this weekend's reburial. That's as it should be.
TTG