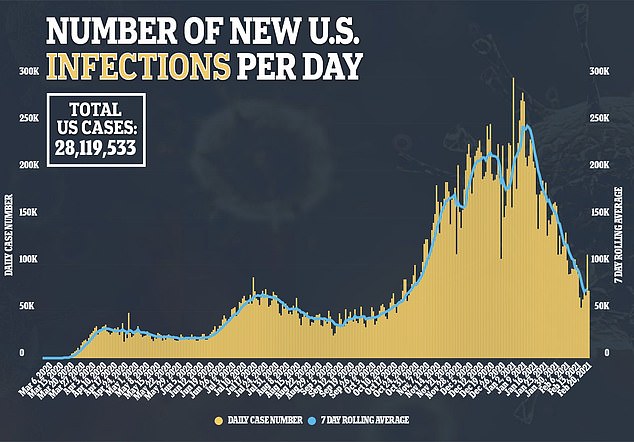 "'With rising vaccination rates and the fact we've injected about a third of the country, that is enough protected immunity. If you look at the counties in New York and New Jersey that had greater than 45% prevalence, meaning more than 45% of the population was infected going into the winter, they really didn't have much of a winter surge.
'Once you get to about 40% of the population with some sort of protected immunity — you don't have herd immunity because it will continue to transfer, but it will transfer at a much slower rate,' Gottlieb explained.    
'I think we'll have the spring and the summer to work this out. I don't think we'll ever reach total herd immunity. Hopefully we will vaccinate the older population to protect them from dying from this, but this will continue to spread.'
Gottlieb also said he believed this fall might be the right time for school children to also receive the vaccination.
'I think it is possible this vaccine gets moved into the high school population in the fall. We have seen the spread more in the high schools than the elementary schools. There is less risk in the grade-school-aged children. I don't believe this vaccine will get moved to 12-and-under into the fall." Daily Mail
Comment: There is a lot of political whining just now comparing the present number of US COVID-19 deaths to the number of dead in our wars. IMO a more apt comparison is to the number of US dead in the Spanish Influenza epidemic of 1918-19. The US then had a population of around 105 million and it is thought that 500,000 to 800,000 died. A comparable death rate today would kill between 1,600,000 and 2,000,000. We are not anywhere near that level of devastation as yet and the tide of the disease is receding due to a variety of factors; the vaccines, good health practices, the emergence of herd immunity. This seems to make possible a belief that the end of the tunnel is approaching for everyone but Fauci. pl
https://www.dailymail.co.uk/news/article-9285321/Ex-FDA-chief-Scott-Gottlieb-COVID-infection-rates-FALL-summer-cases-fall-56K.html