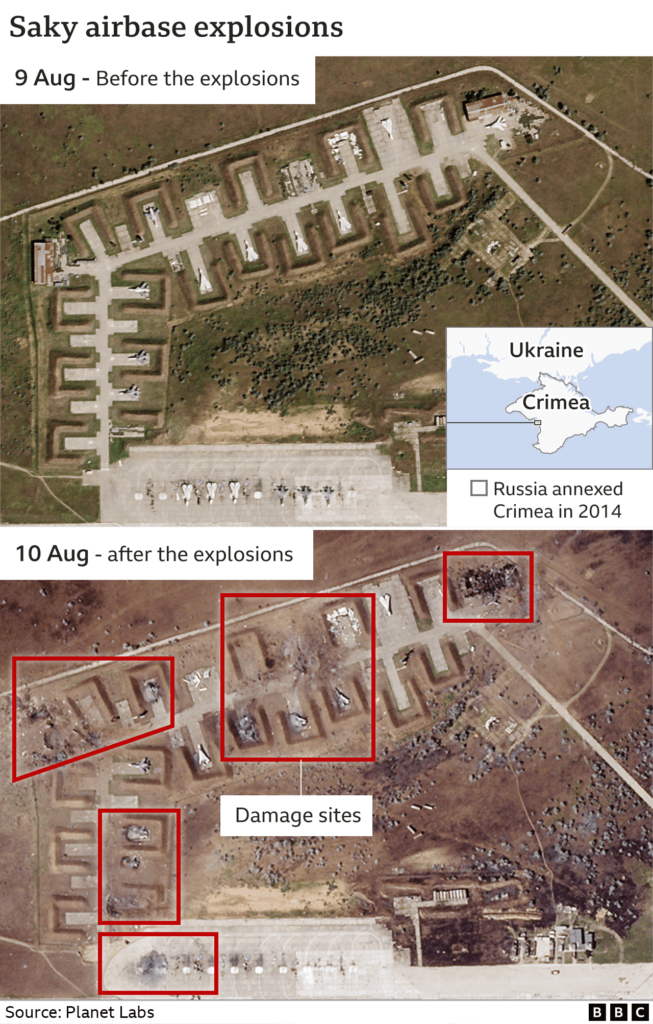 "How the base was damaged, or by what, is still unconfirmed.
William Alberque, from defence think tank IISS, has told the BBC that two buildings may have been used to temporarily store weapons, and would have been targeted for maximum impact on the fighter jets parked nearby.
The base's runway, and permanent weapons storage sites located further away from the planes, seem untouched.
Mr Alberque says it is likely that cluster munitions were used, but Ukraine doesn't have the kind of missiles needed to carry out this kind of attack.
If Ukraine is responsible, he suggests they used repurposed S-300 missiles, typically for surface-to-air attacks, or anti-ship Neptune missiles.
But Louise Jones, head of intelligence at McKenzie Intelligence, says the satellite images aren't conclusive enough.
If makeshift missiles were used, Ms Jones says there's no evidence they missed any potential targets.
"To be that accurate at that range with possibly an experimental munition is unlikely," she suggests.
Another scenario would be a sabotage operation by Ukrainian special forces or paramilitary groups. Ms Jones says this isn't impossible, but again highly unlikely.
A third option, she adds, is that the explosions were an accident – caused by a fuel leak, or ammunition exploding in one of the two storage sheds.
Russia has blamed the blasts on this latter option and said fire safety rules were being flouted on the base.
The before and after images from Planet Labs, which monitors hundreds of satellite feeds over Ukraine, are the first independent confirmation that the base may have been damaged. Until now, details about the extent of the explosions' impact have been scarce.
Ukraine has not claimed responsibility and its defence minister suggested that careless Russian soldiers could be to blame.
"I think that Russian military guys in this airbase ruined their very simply known rule: don't smoke in dangerous places," said Oleksiy Reznikov. "That's it.""
Comment: OK. Who votes for wunderwaffe and who votes for SOF+partisans? pl
Ukraine war: Crimea airbase badly damaged, satellite images show – BBC News