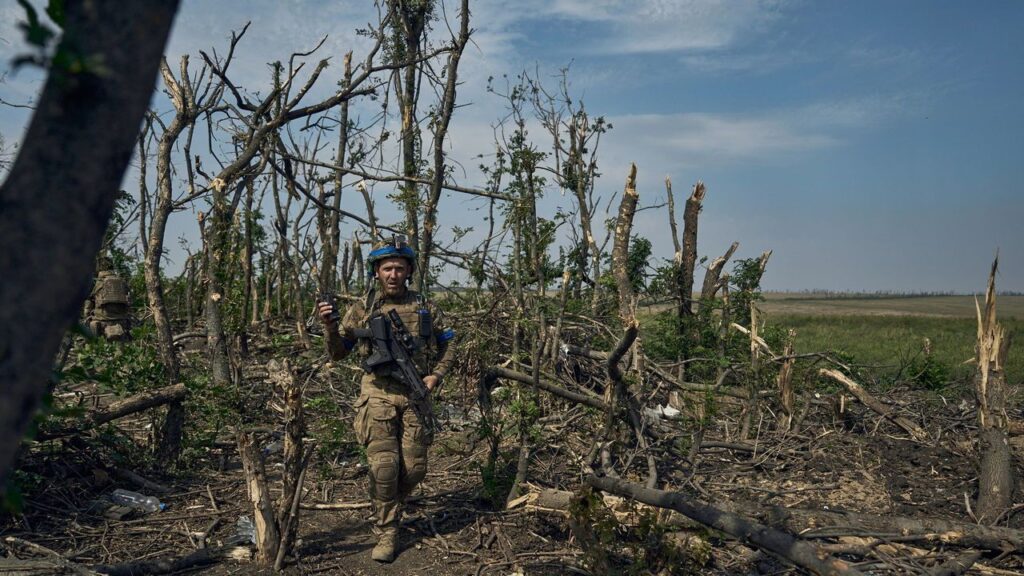 US Defense Intelligence Agency (DIA) Director of Analysis Trent Maul stated that there is a "realistic possibility" that Ukrainian forces will break through the entire Russian defense in southern Ukraine by the end of 2023, while a Ukrainian source suggested that upcoming Russian defensive positions are weaker than those Ukrainian forces have previously breached. Maul stated on September 6 in an interview with the Economist that the recent Ukrainian breach of the "first" of three Russian defensive layers in southern Ukraine gives Ukrainian forces a "realistic possibility" to break through the remaining series of Russian defensive positions by the end of 2023. Maul stated that Ukrainian forces have also advanced into the "second" Russian defensive layer, likely referring to recent advances by light Ukrainian infantry past the series of Russian defensive positions that run northwest of Verbove to north of Solodka Balka (20km south of Orikhiv) in western Zaporizhia Oblast. 
Former Ukrainian Aidar Battalion Commander Yevhen Dykyi stated on September 4 that battles are already ongoing at these Russian defensive positions but that Ukrainian forces have not yet broken through them. Dykyi stated that the minefields ahead of the upcoming Russian defensive layer are not continuous, consistent with previous Ukrainian statements suggesting that Ukrainian forces have already advanced through the densest minefields. Dykyi stated that Russia's "third" defensive layer in southern Ukraine is primarily comprised of command posts, communication points, and warehouses and mainly acts as a support line for the Russian defensive positions further north. Dykyi argued that Russian forces will not be able to hold back Ukrainian advances at this "third" series of Russian defensive positions, implying that a definitive Ukrainian breach of the current Russian defensive layer would be operationally decisive.
However, Maul notably stated that the bulk of Russian reinforcements are deployed to the "third" Russian defensive layer, contradicting Dykyi's suggestion that these positions are merely supportive in nature. The subsequent series of Russian defensive positions may be weaker, less mined, and less manned than the defensive layer that Ukrainian forces have breached. Russian defenses are not uniform across the front in southern Ukraine, however, and assessments of the strength of subsequent Russian defensive positions may be extrapolations based on limited information from small sectors of the front. Ukrainian forces are making tactical gains and successfully attriting defending Russian forces and ISW continues to assess Ukraine's counteroffensive may achieve operational successes in 2023, but subsequent series of Russian defensive positions still pose significant challenges for Ukrainian forces and may in sections be strongly held.
https://www.understandingwar.org/backgrounder/russian-offensive-campaign-assessment-september-7-2023
Comment: So the DIA doesn't share the oft cited view that the Ukrainian counteroffensive is already an abject failure. I'm not signing up for "The Economist" so I don't know the full extent of this interview, but at least this interview is with a named, high ranking IC source rather than the NYT's unnamed Pentagon sources.
I doubt the present counteroffensive will breakthrough to the coast this year. It may not even take Tokmak, but the damage the Ukrainians are doing to the Russian war machine is considerable. Coupled with the progress Ukraine does make to the south, Russia's hold on southern Ukraine and even Crimea will be weakened. The war will continue, but Ukraine will very likely retain the momentum through the winter and into next spring. Apparently the article also talks about Trent Maul brandishing a new "forty page "tradecraft note", published this January, which re-examines how the agency measures a country's will to fight." This addresses an aspect of defense analysis that was sorely lacking in the past.
TTG
https://www.economist.com/united-states/2023/09/06/how-the-pentagon-assesses-ukraines-progress