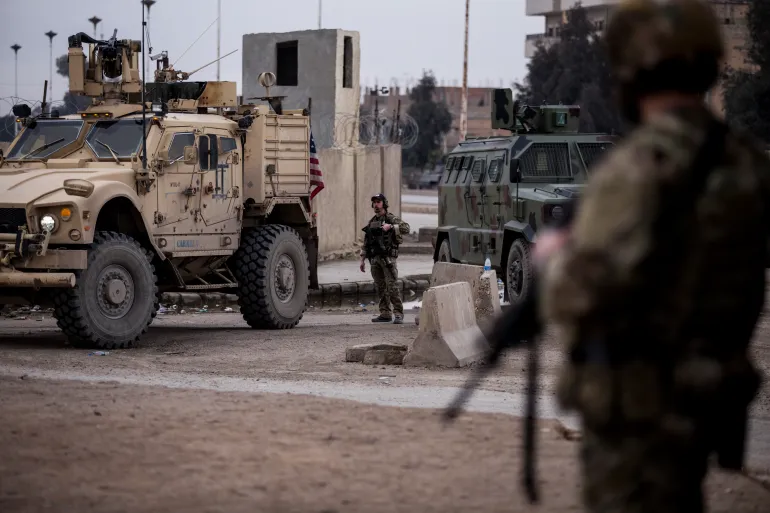 WASHINGTON (AP) — A U.S. contractor was killed and five U.S. service members and one other U.S. contractor were wounded when a suspected Iranian drone struck a facility on a coalition base in northeast Syria on Thursday, the Pentagon said.
In a statement released late Thursday, Defense Secretary Lloyd Austin said U.S. Central Command forces retaliated with "precision airstrikes" against facilities in eastern Syria used by groups affiliated with Iran's Revolutionary Guard. The Defense Department said the intelligence community had determined the unmanned aerial vehicle was of Iranian origin. "The airstrikes were conducted in response to today's attack as well as a series of recent attacks against Coalition forces in Syria" by groups affiliated with the Revolutionary Guard, Austin said.
https://www.yahoo.com/news/drone-strike-kills-us-contractor-030027923.html
Comment: This incident and the ensuing retaliatory precision strike is an ugly reminder that US troops are still in Syria… uninvited. Our initial entry into Syria came from two directions, one commendable and the other foolish from the start.
The foolishness came from our misguided efforts to identify, train and equip "good jihadis" to take on the legitimate Syrian government. Those good jihadis took us for gullible dupes from day one. All we did was supply weapons to the ISIS jihadis. The SF teams involved in the effort knew it was stupid and found it utterly distasteful. I would like to think the CIA teams figured that out as well, but who knows. Our continued presence at al Tanf is a remnant of that program.
Our other entry into Syria was in direct support of the Rojava Kurds and their battle for their very existence against the ISIS jihadis. It began with airstrikes at Kobani and two SF teams embedded with the YPG. It grew from there. We weren't invited by Damascus to help the Rojava Kurds but it was a fight against a mutual enemy. At the time of our entry, Damascus exercised no control or authority over that region and was fighting for her very existence. Our presence with the YPG metastasized into the creation of the SDF and eventual confrontations with the IRGC and even an incident with the Wagner Group. Our mistake here was staying on long after the fall of Raqqa. We should have been preparing the YPG and SDF for either demobilization or integration into the SAA. We failed to do that and now we're stuck there after promising both these groups we'd stand by them with false hopes of independence from Damascus.
We don't belong there anymore than the Russian Army belongs in Ukraine. Just like Ukraine, Syria is a sovereign state and, as such, can choose with whom it aligns itself and with whom it does not. We don't have to like it. We can continue to be pissy with Assad, play all the Intelligence, IO and sanctions games we want, but our troops and contractors need to leave. We need to coordinate our leaving with Damascus, not disappear in the dead of the night. We need to make it clear to the Rojava Kurds and tribes of the SDF that we will leave and that they must come to an accommodation with Damascus.
Al Jazeera offers a good explainer about our presence in Syria. Here's a section of that explainer.
Why does the US still have forces in Syria?

The United States' air attacks on targets it says were associated with Iran's Islamic Revolutionary Guard Corps (IRGC) in eastern Syria have put the spotlight once again on the continued presence of US forces in the country. In recent years, Washington has pulled back from its previously more extensive role in the country, but has stayed on in a limited capacity in some areas, ostensibly to fight ISIL (ISIS) and limit Iran's influence in the country. The eastern Syria raids announced on Wednesday appear to be part of the latter, with Central Command spokesperson Colonel Joe Buccino saying the strikes "were necessary to protect and defend US personnel", and a response to an August 15 attack targeting US forces that was allegedly launched by Iranian-backed militias.

Where are US forces currently located in Syria?

Some US forces are still located in the SDF-controlled areas of northeastern Syria, such as Hassakeh and Raqqa provinces. Since 2016, the US has also controlled al-Tanf base, in a remote area of Syria, near where the borders of Syria, Jordan and Iraq meet. The US presence in the base was agreed upon with Russia, and is part of a 55km (34 miles) "deconfliction zone", which US and allied forces patrol. Russia has since called on the US to withdraw from al-Tanf. There are still approximately 900 US soldiers in Syria.

What are the US's main goals in Syria?

Speaking last year, Brett McGurk, the White House coordinator for the Middle East and North Africa, said the US had four main objectives in Syria: to reduce violence, maintain military pressure on ISIL, address Syria's humanitarian crisis, and to support Israel. The US has conducted raids against senior ISIL and al-Qaeda leaders in Syria, including ISIL's Abu Bakr al-Baghdadi. Civilians have also been killed in these attacks, according to locals. "The official goal of the Americans in Syria is defeating ISIS and ensuring that ISIS does not return to the areas that have been liberated," said Mzahem Alsaloum, a Syrian analyst. "But the presence of the Americans is also important to cut [Iranian] military and smuggling supply lines [from Iraq] … if the Iranians took al-Tanf, there would be a direct link between Tehran, Baghdad and Damascus."
https://www.aljazeera.com/news/2022/8/24/why-does-us-still-forces-syria-explainer
TTG