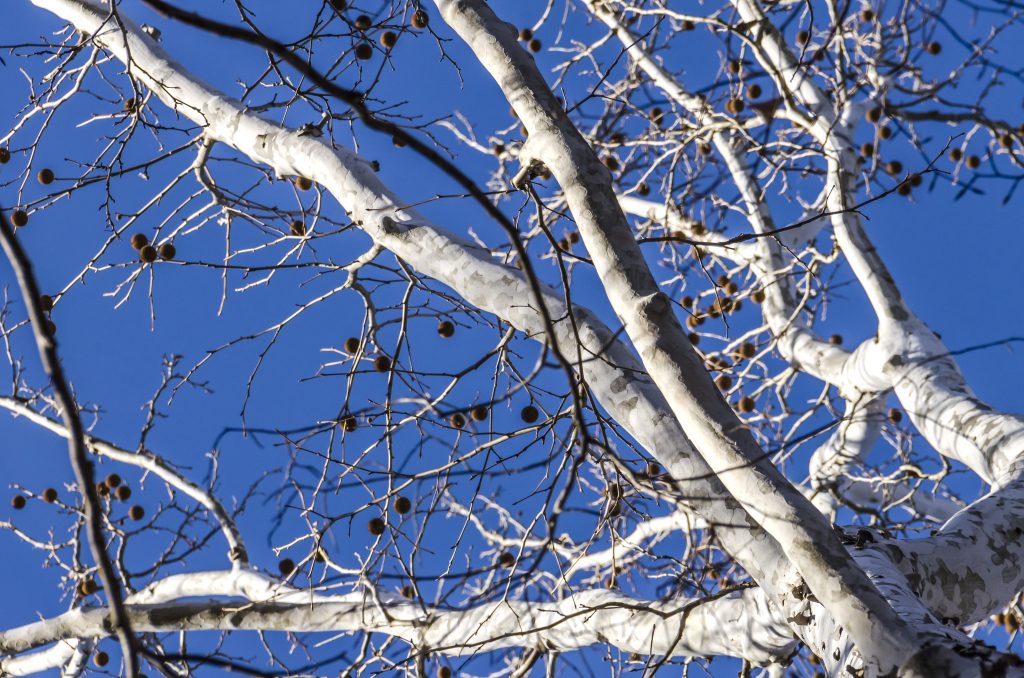 No. this is not about Lithuanian anti-Soviet partisans. This is about my local forest brothers… the American Sycamore trees growing behind my house. I consider them my brothers because they grew from bare ground only after my family and I moved into this house in 1996. We grew together in this Virginia hollow along a small tributary of Aquia Creek.
When I chose this lot, it was all bare ground, newly graded at the bottom of a still gravel road. I checked the county land use plans and saw that the woods and stream behind the lot were to forever stay woods and stream because of an endangered freshwater mussel. What clinched the decision was the appearance of a wild rabbit who approached me as I surveyed the site. I took this as a sign that the forest blessed the eventual presence of myself and my family.
After moving into my new home, I watched how the graded land behind the house evolved through a natural evolution of flora. The first trees to appear were rapidly growing black locusts and some redbuds. They remain but my back yard is now dominated by American Sycamores. I am amazed by their size after only a quarter of a century. When fully leafed out in the summer, they loom large over my garden shed, gazebo and back deck. I find their immenseness comforting. SWMBO is somewhat intimidated by their mass. Their fall foliage is not all that impressive, it yellows, browns, then falls to the ground. But that's when these trees really come into their own. Their smooth light grey bark shines in the winter sunlight. Enjoy the photos.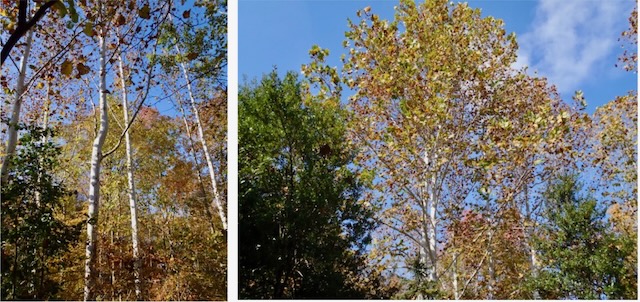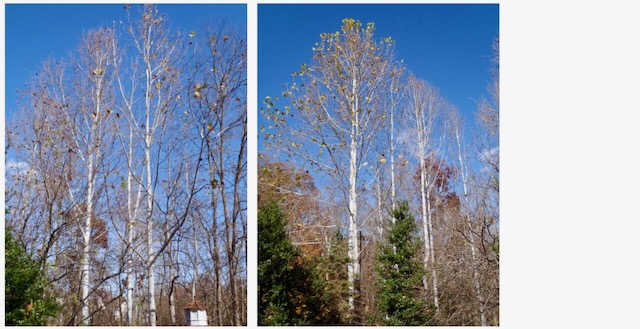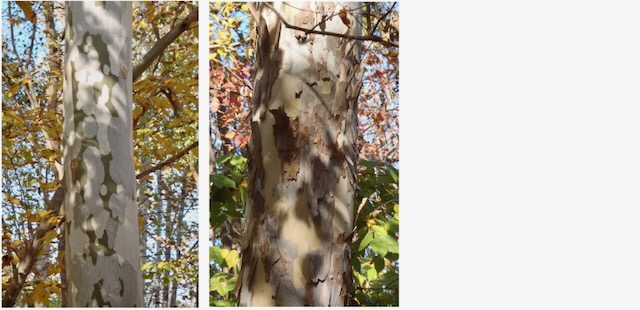 The bark of the sycamore is not always a uniformly smooth light grey. It sometimes takes on the appearance of a camouflage pattern as the older outer bark sheds off in irregular patterns. Eventually the lower bark becomes rough and takes on the appearance of many other forest trees.

On the left is my sitting log made from a section of a large Blue Spruce I had to remove from my front yard. SWMBO didn't appreciate me climbing the tree with hatchet and saw, but that was the easy part. Removing the stump with axe, shovel, wedges and sledge hammer was a real bear. From my sitting log, perhaps you can make out a particularly odd shaped sycamore in the distance.
On the right is a close up of that sycamore that bears witness to an epic forest struggle and eventual triumph. Years ago this tree was being strangled by a vine. It could have been the end of this tree, but the sycamore outwitted the vine. It grew a new main trunk below the point where the vine started wrapping around the tree and continued to grow strong enough to break the grip of the vine. It is a natural forest monument to the perseverance of life.
Another reason for dedicating this posting to my brother sycamores is that this is the "Year of the Sycamore" as designated by our state arboretum.
In honor of Arbor Day, "the nation's tree planting holiday," Blandy arborists and representatives from the Department of Forestry will plant an American Sycamore tree at the Arboretum on Friday, April 29. The tree will be added to a tree and shrub collection that dates to the 1930s. The Arboretum's 2022 Tree of the Year was selected after deliberation by Curator T'ai Roulston and Blandy arborists. "A vital part of our mission is to practice and promote tree education, science, and conservation," said Roulston. "Through research and public programming, we want to share with everyone – of all ages – how important trees are to the environment." According to Roulston, the sycamore was selected for its value as one of the largest trees in the eastern U.S. and for its exfoliating bark which creates a beautiful, mottled layer of light greens, grays, and browns.

The American Sycamore is a massive tree, with heavy, spreading branches that can grow to a height of 70-100 feet with a canopy spread of 60-80 feet. Its leaves, which often measure up to eight inches across, help make the sycamore one of our most impressive shade trees. Sycamores are also called buttonwood or buttonball trees because of the one-inch balls that hang from the tree through the winter months and then fall each spring. Sycamore is a large deciduous species of wide distribution across the eastern and central U.S. and is used for lumber and pulpwood. Sycamore seeds are eaten by wildlife, and its hollowed limbs are often used as nesting sites for birds and mammals. In the wild, it is most often found in riparian areas, but as a cultivated tree it can grow well in upland sites. It is often used as a street tree, sometimes forming an impressive allée – a tunnel of green lined with streaked white trunks. The downtown area of our local city of Winchester gets much of its natural grandeur from these massive trees.

In 1744, a Shenandoah Valley settler named Joseph Hampton supposedly lived with his two sons for most of the year in a hollow sycamore in Clarke County, VA. And in 1770, while surveying for the Kanawha Canal, George Washington recorded in his journal a sycamore tree with a trunk that measured almost 45 feet in circumference.
https://blandy.virginia.edu/2022-tree-year-american-sycamore
I look forward to growing older with my brothers over the next quarter century. I know they'll be here. I hope I'll be around to celebrate with them. If not, my sons will.
TTG