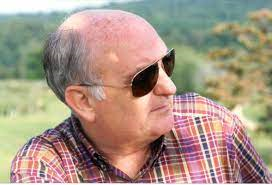 With the Russia invasion of Ukraine entering its nineteenth month with no end in sight, with tensions around the Strait of Taiwan escalating, and with the U.S. entering a turbulent season of presidential electoral politics, it is a worthwhile moment to reflect on how Col. Pat Lang would have been casting these events and providing his unique brand of insights and initiatives. His passing in April of this year was a loss to his family, his friends, this committee of correspondence, and the world.

We have maintained the Turcopolier website (courtesy of TTG) and done our best to preserve this committee of correspondence along with Pat's legacy. As part of that effort, as Pat and his wife Marguerite wished, we are also keeping Pat's work alive by promoting the sales of his writings. In the final two years before he took ill and passed away, Pat produced three outstanding volumes: Tattoo: A Memoir of Becoming, The Human Factor: The Phenomenon of Espionage, and The Portable Pat Lang.

His memoir is a work of art that captures the life of a soldier, scholar, and spy. More than an autobiography, it is a history of the half-century of America at war and peace during which he served his country. He produced an earlier version of The Human Factor as part of a series of books on the post-911 challenges. He purchased back the copyright and updated the content, with a new introduction and further reflections on espionage. It is a primer on human intelligence from a man who headed the global human intelligence program for the Defense Intelligence Agency. The Portable Pat Lang is a collection of his best writings, both strategic analysis, historiography, and historical fiction.

Before his recent trilogy of writings, Pat produced a three-volume historical novel about spycraft, set during the Civil War. He later wrote a series of short stories carrying the narrative through to the end of the nineteenth century exclusively for The Portable Pat Lang.

Pat, on rare occasions, would make appeals to his committee of correspondence to make small financial contributions to cover some of the overhead costs of maintaining the website. There is no need for that today, but I do call on all of you to be sure you have copies of all of Pat's books, post reviews on Amazon and Barnes and Noble, and spread the word to others. Purchase copies to donate to your local libraries and to military institutes.

Pat often commented that his skills in human intelligence were initially formed as an English Literature major at VMI, where the vast majority of his fellow cadets were in the engineering programs. He had a gift for writing and for conveying his experiences in a way that was intelligible, passionate, personal, and illuminating.

As part of Pat's legacy, we will be at the Miami Book Fair in November at the Writers Row, selling his books, contacting libraries and publishers. This is as he wished. He has left behind a durable legacy and it is now on our shoulders to spread it.