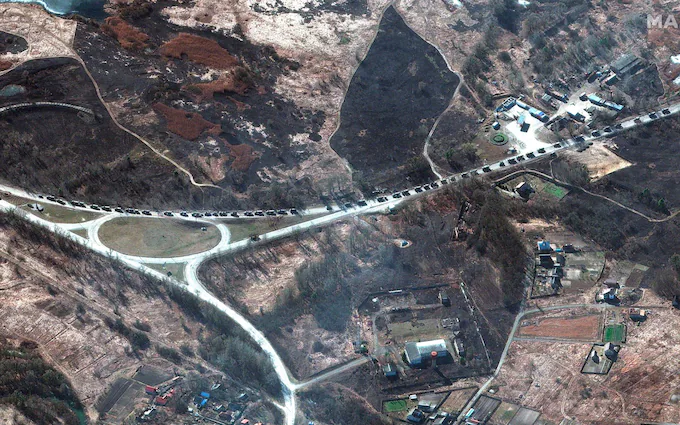 "The satellite images showed a vast Russian convoy bogged down on the road to Kyiv.
Military experts said the 17-mile column, which more than doubled in size overnight on Monday, was a sitting duck for Ukrainian artillery and drone strikes. About 20 miles from where it was last spotted, the Russian advance appeared to have hit a wall.
In Bucha, 15 miles north-west of Kyiv, images posted online showed the bloody aftermath of one of the most brutal ambushes and firefights of the five-day-old war.
In Kyiv itself, Russian special forces troops were halted by guards at one of the city's most famous religious landmarks. A photograph showed what appeared to be a Russian corpse lying close to St Michael's Golden-Domed Monastery, while the local orthodox archbishop issued a statement claiming the "saboteurs" had been "neutralised".
As talks were taking place just across the border in Belarus, Russian troops faced being massacred on the roads into the capital. If Russians were being killed by church guards, the resistance could clearly be no pushover." Telegraph
Comment: This convoy is a great mistake on the part of the Russian Army. The level of their incompetence has to be seen to be believed. This is mostly much needed logistical support for the spearheads. There is also a certain amount of artillery being brought forward to support prolonged operations in the Kiyiv area.
But, pilgrims, this very long column is stalled on a highway in a situation in which Russia DOES NOT have air supremacy. The vehicles and the largely conscripted troops are taking a lot of hits from armed drones, aircraft and artillery/mortars.
The vehicle mass will eventually reach the Kiyiv area but the mommies and daddies back home in Holy Russia are going to get an earful from their offspring who endured this trip down the highway from hell.
Meanwhile a large number of Ukrainian pilots are in Poland to receive aircraft donated by various European countries even as Javelin and Stingers are being rushed to Ukraine probably for overland delivery from Poland and Romania.
Jack Keane was on Fox today. He stressed the ability of the US to proceed in unacknowledged covert action with "volunteers" under a presidential "finding." Well, turcopole pilgrims, someone should wake Joe up so that we can get on with it. pl
https://www.telegraph.co.uk/world-news/2022/02/28/russias-17-mile-convoy-thwarted-road-kyiv/