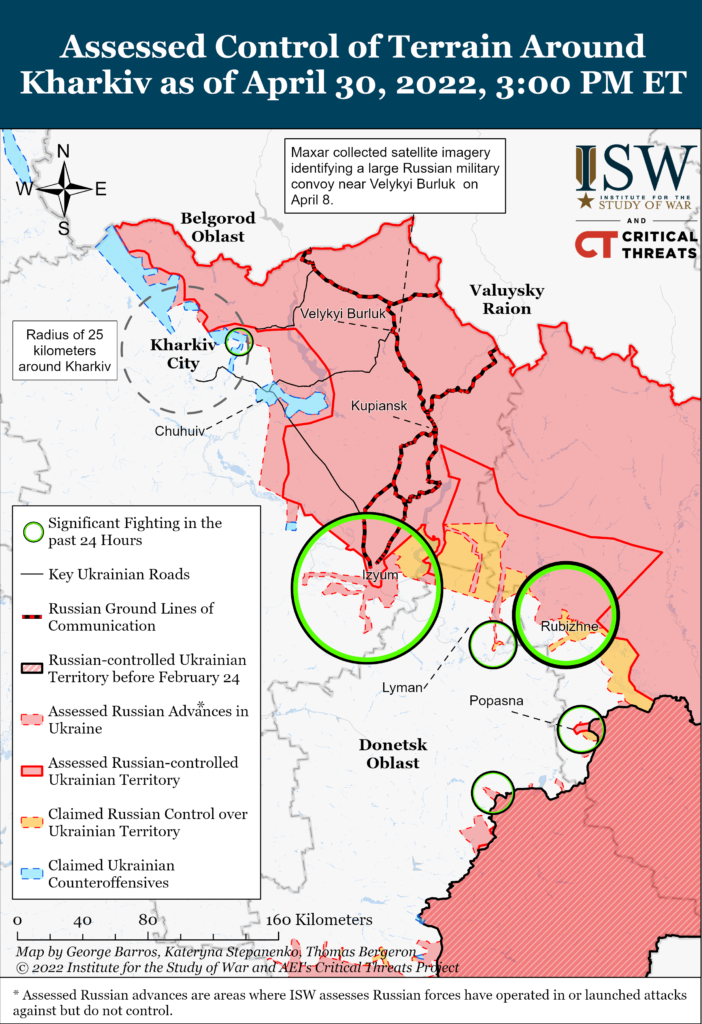 April 30, 5:15pm ET
Further Russian reinforcements to the Izyum axis are unlikely to enable stalled Russian forces to achieve substantial advances. Elements of unspecified Eastern Military District units and several air-defense assets are reportedly deploying from Belgorod to the Izyum front to support likely degraded Russian units attempting to advance south of the city. These forces are unlikely to enable Russian forces to break the current deadlock, as Russian attacks remain confined to two major highways (toward Slovyansk and Barvinkove) and cannot leverage greater numbers. Several successful Ukrainian counterattacks out of Kharkiv city in the last 72 hours have additionally recaptured a ring of suburbs north and east of the city and may additionally force Russian forces to redeploy units intended for the Izyum axis to hold these positions. Russian forces appear increasingly unlikely to achieve any major advances in eastern Ukraine, and Ukrainian forces may be able to conduct wider counterattacks in the coming days.
Key Takeaways
A Ukrainian counteroffensive out of Kharkiv City will likely alleviate pressure on parts of the city that have suffered the most from Russian shelling and may force Russian troops from Izyum to re-deploy northward to support forces maintaining the partial encirclement of Kharkiv.
Additional Russian forces are deploying to the Izyum front but are unlikely to enable any major advances.
Russian troops did not make any confirmed advances to the southwest or southeast of Izyum or to the west of the Donetsk-Luhansk frontline.
Russian forces in Kherson are pausing major offensive operations to improve their tactical positions and regroup to prepare for a renewed offensive to capture the administrative borders of Kherson.
Russian occupation forces in Mariupol announced plans to consolidate their control over the city and intend to return Ukrainian citizens forcibly deported into Russia at some point in the future.
Immediate items to watch
Russian forces attacking southeast from Izyum, west from Kreminna and Popasna, and north from Donetsk City will likely make steady but tactical gains against Ukrainian defenders.
Russian forces will likely attempt to starve out the remaining defenders of the Azovstal Steel Plant in Mariupol and will not allow trapped civilians to evacuate but may conduct costly assaults on remaining Ukrainian defenders to claim a propaganda victory.
Russian forces are likely preparing to conduct renewed offensive operations to capture the entirety of Kherson Oblast in the coming days.
Russia may continue false-flag attacks in and around Transnistria or might move to generate a more serious crisis in Transnistria and Moldova more generally. 
https://www.understandingwar.org/backgrounder/russian-offensive-campaign-assessment-april-30
Comment: ISW doesn't paint a rosy picture of the status of the Russian invasion. I think a significant indicator that the Russian war effort is sucking bilge water is the recent leadership announcements. First, General Dvornikov was appointed as the supreme commander of Russia's forces in Ukraine a few weeks ago. Dubbed "the butcher" by other Russian generals, he recently oversaw the successful Russian actions in Syria. That, by itself, was a smart and overdue move. Then, just a few days ago, the Chief of the General Staff of the Armed Forces of the Russian Federation, General Valery Gerasimov, arrived in Izium, Kharkiv region, to personally command his troops' attempts to advance. That's a clear sign of desperation.
And now Putin is rumored to have taken personal command of the war from deep within one of his command bunkers, leaving the day to day running of Russia to others. If true, that's reminicent of the movie scenes of the last days of Hitler. Now I know things are not that bad in Moscow. The Russian Army is still on Ukrainian territory and on the offensive, albeit slow and costly. No one is talking about attacking Moscow. Still, Putin's special military operation is certainly not going according to plan.
TTG