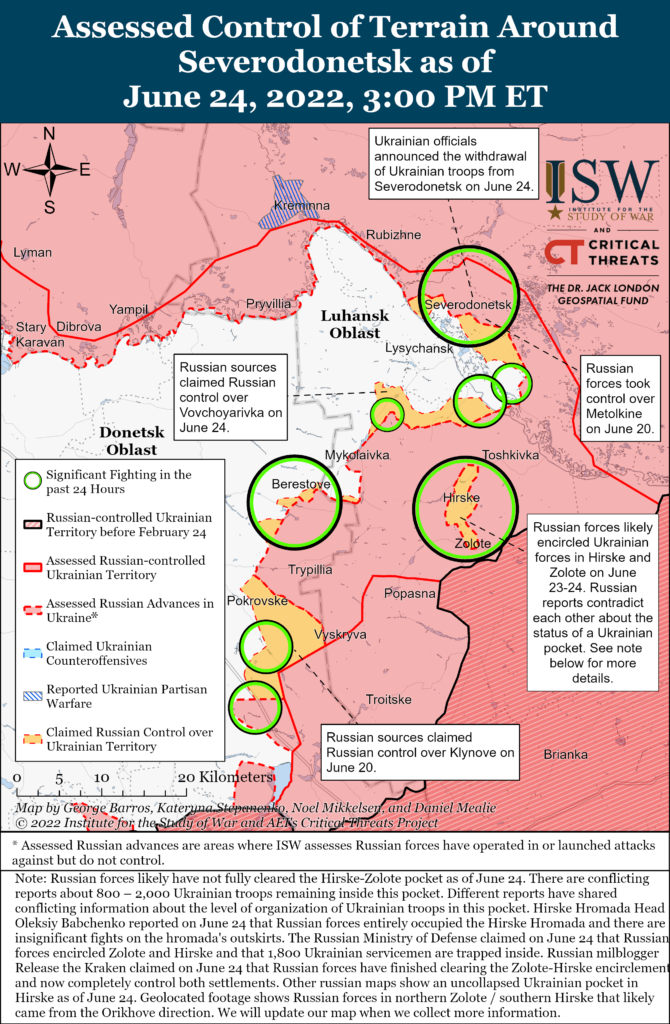 Russian forces have made substantial gains in the Severodonetsk-Lysychansk area over the last several days and Ukrainian troops continue to suffer high casualties, but Ukrainian forces have fundamentally accomplished their objective in the battle by slowing down and degrading Russian forces. Head of the Luhansk Oblast Administration Serhiy Haidai stated on June 23 that Ukrainian troops may have to retreat to avoid encirclement in Lysychansk, which indicates that Ukrainian authorities are setting conditions to prepare for the ultimate loss of both Severodonetsk and Lysychansk. As ISW has previously assessed, however, the loss of Severodonetsk and Lysychansk will not represent a major turning point in the war. Ukrainian troops have succeeded for weeks in drawing substantial quantities of Russian personnel, weapons, and equipment into the area and have likely degraded Russian forces' overall capabilities while preventing Russian forces from focusing on more advantageous axes of advance. Russian offensive operations will likely stall in the coming weeks, whether or not Russian forces capture the Severodonetsk-Lysychansk area, likely granting Ukrainian forces the opportunity to launch prudent counteroffensives. The Kremlin's ideological fixation on the capture of Severodonetsk, much like the earlier siege of Azovstal, will likely be to the ultimate detriment of Russian capabilities in future advances in Ukraine. The loss of Severodonetsk is a loss for Ukraine in the sense that any terrain captured by Russian forces is a loss—but the battle of Severodonetsk will not be a decisive Russian victory.
https://www.understandingwar.org/backgrounder/russian-offensive-campaign-assessment-june-23
Ukrainian officials ordered a controlled withdrawal of troops from Severodonetsk on June 24. Luhansk Oblast Administration Head Serhiy Haidai announced that Ukrainian forces are withdrawing from "broken positions" in Severodonetsk to prevent further personnel losses and maintain a stronger defense elsewhere. Severodonetsk Regional Military Administration Head Roman Vlasenko stated that several Ukrainian units remain in Severodonetsk as of June 24, but Ukrainian forces will complete the full withdrawal in "a few days." An unnamed Pentagon official noted that Ukrainian withdrawal from Severodonetsk will allow Ukrainian troops to secure better defensive positions and further wear down Russian manpower and equipment. The Pentagon official noted that Russian forces pushing on Severodonetsk already show signs of "wear and tear" and "debilitating morale," which will only further slow Russian offensive operations in Donbas. Russian forces have been attempting to seize Severodonetsk since at least March 13, exhausting their forces and equipment over three months.
Ukrainian forces will likely maintain their defenses around Lysychansk and continue to exhaust Russian troops after the fall of Severodonetsk. Ukrainian forces will occupy higher ground in Lysychansk, which may allow them to repel Russian attacks for some time if the Russians are unable to encircle or isolate them. Russian forces in Severodonetsk will also need to complete river crossings from the east, which will require additional time and effort. Luhansk People's Republic (LNR) Head Leonid Pasechnik claimed that Russian forces will completely encircle Lysychansk in the next two or three days after fully interdicting Ukrainian ground lines of communications (GLOCs). Russian forces have successfully secured access to Ukrainian GLOCs along the Hirske-Lysychansk highway by breaking through Hirske on June 24, but Russian forces will need to cut Ukrainian logistics routes from Bakhmut and Siversk to fully isolate Lysychansk. Russian forces are likely to face challenges completing a larger encirclement around Lysychansk due to a failed river crossing in Bilohorivka, northwest of Lysychansk, in early May. Ukrainian forces will likely conduct a deliberate withdrawal from Lysychansk if Russian forces threaten Ukrainian strongholds in the area.
https://www.understandingwar.org/backgrounder/russian-offensive-campaign-assessment-june-24
Comment: Jeebus, it's about time. The Ukrainians have milked that town for all it was worth. The withdrawal probably happened at least a day ago, since it was announced today. Although they've withdrawn across the river to Lysychansk, I have my doubts about any defensive line anchored there. The Russians continue to advance towards Lysychansk from the south. They should be moving towards the Kramatorsk-Slovyansk defenses while the Russians are forced to lengthen their supply lines.
On the other hand, the Ukrainians may try to bleed the Russians some more before withdrawing any further… if they can. None of the formations in combat are as large as the order of battle show. They are all probably attritted to a fraction of their pre-war strength, especially the Russian units. There's undoubtedly a lot of open space on that battlefield. The first HIMARS are now in action. There's a good chance they're in use here.
TTG