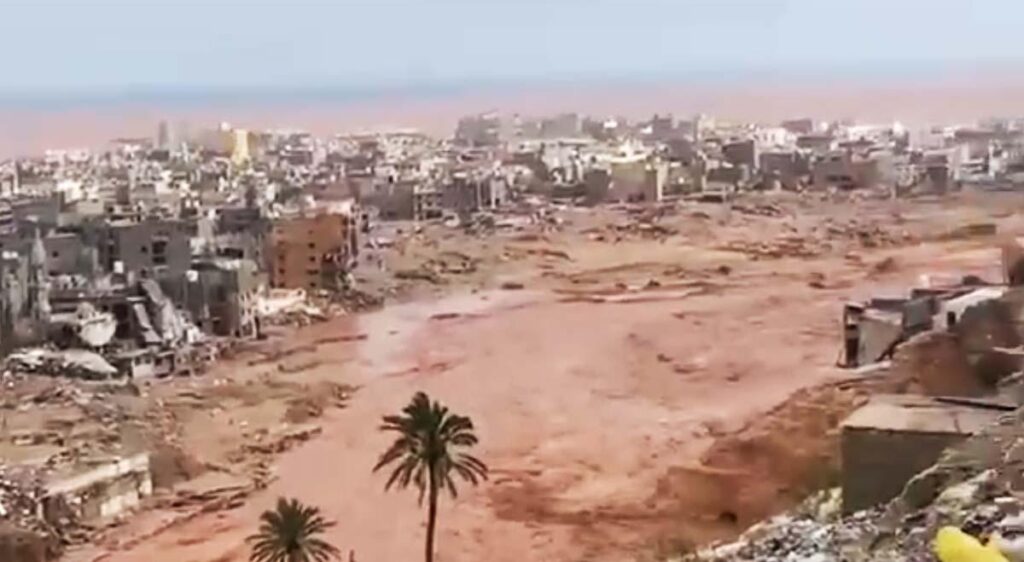 The eastern city of Derna declared a disaster zone after collapse of two dams, while one UN official described the situation as a calamity of epic proportions. More than 5,000 people have been killed and thousands more are feared dead after Storm Daniel triggered devastating floods in eastern Libya that broke dams and swept away entire neighborhoods.
Tarek al-Kharraz, a spokesman for the interior ministry of the government that oversees eastern Libya, one of two rival administrations running the country, said at least 5,200 people had died in Derna after the collapse of two dams in the city. Rows of bodies shrouded in blankets lay on the sidewalk outside a hospital in the city, highlighting how the storm overwhelmed Libya's infrastructure and state institutions which have been devastated by years of war and political turmoil.
Earlier on Tuesday, a Red Cross official said 10,000 people were missing, more than 48 hours after after the storm made landfall. "Our teams on the ground are still doing their assessment, [but] from what we see and from the news coming to us, the death toll is huge," Tamer Ramadan, of the International Federation of Red Cross and Red Crescent Societies, told reporters in Tunisia. "We don't have a definite number right now," he said, adding that "the number of missing people is hitting 10,000 people so far".
In a press conference on Tuesday, Libyan Prime Minister Abdul Hamid Dbeibah said international aid offers had started coming in. "There were multiple offers of help and we will only accept aid that is necessary," Dbeibah said. The US said they were coordinating with Libyan authorities and the United Nations to provide support and provide emergency funds through relief organizations.
The area of Libya affected by Storm Daniel is controlled by renegade general Khalifa Haftar. The 79-year-old, who controls vast swathes of the country's east, has enjoyed significant backing from Russia, the United Arab Emirates and Egypt, as well as diplomatic cover from France. Libya has been in a state of unrest since 2011 when a Nato-backed uprising toppled longtime ruler Muammar Gaddafi. Years of political instability, corruption and war have led to the neglect of key state institutions such as hospitals, sanitation and rescue teams that are needed to help in a disaster response. 
Hichem Chkiouat, a minister and member of the eastern government's emergency committee, said Derna was one of the worst hit cities and had suffered unprecedented devastation. "I am not exaggerating when I say that 25 percent of the city has disappeared. Many, many buildings have collapsed," he told reporters, before declaring Derna a disaster zone.
The flooding has prompted an international response, with an increasing number of countries deploying rescue teams and aid to the North African state. Turkey's foreign ministry said it had sent three plane loads full of aid and rescue workers on Monday night. The UAE and Qatar also said they were sending help to areas afflicted by the storm and subsequent flooding. Turkey and Qatar have traditionally supported the Tripoli government, while the UAE has backed Haftar, but a rapprochement between Ankara and Abu Dhabi has resulted in a simmering down of the conflict in Libya, though tensions remain.
https://www.middleeasteye.net/news/libya-storm-daniel-thousands-feared-dead-missing
Comment: After the earthquake in Morocco, this flooding disaster just seems especially heartbreaking. Of those 10,000 missing, I doubt most will be miraculously accounted for as in the Lahaina fire. Makes me wonder what disasters are unfolding that we don't hear about. The Derna flood was largely due to the failure of two dams. I do wonder if Qaddafi was still around would those dams be better maintained. I also wonder if this will lead to some kind of truce or settlement in Libya if, as the article says, "a rapprochement between Ankara and Abu Dhabi has resulted in a simmering down of the conflict."  
TTG